South Korea has been plunged into political turmoil after the impeachment of president Park Geun-hye following her descent into political scandal.
The ruling on 10 March by South Korea's eight-member constitutional court means criminal proceedings can now be opened against Park over charges of corruption and cronyism. It is the first time an elected leader has been removed from office since the switch to democratic government in the late 1980s.
Who is leading South Korea after Park Geun-hye impeachment?
In the short term, South Korea's interim president and Prime Minister Hwang Kyo-ahn is to hold a cabinet meeting following the constitutional court upholding parliament's impeachment of Park.
Hwang is expected to urge ministers to focus on the government's pressing issues. He is also widely expected to address the nation later in the day (10 March).
The political crisis comes amid escalating tensions between South Korea and North Korea. Hwang's interim administration has been quick to show Park's impeachment will in no way affect Seoul's relationship with its neighbour to the north.
What next for Park Geun-hye?
In the immediate fallout of the impeachment a spokesman at Park's presidential office has said the outgoing leader will not leave her official residence, Blue House, right away. She is not due to leave today (10 March) and neither will she issue any statements on the ruling.
Nevertheless some preparations have been made for her exit. Aides have been to Park's southern Seoul home to prepare for her homecoming the AP reported.
In the longer term, the greatest question hanging over Park's future is whether she will face criminal proceedings after being stripped of her presidential immunity.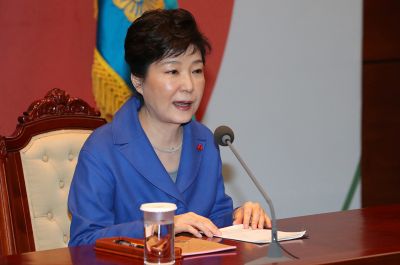 When will South Korea elections be held?
Local media in South Korea has touted 9 May as the date for likely elections, with the country's constitution dictating a presidential poll must be put in the field no later than 60 days after the sitting president was removed.
South Korea's Prime Minister Hwang Kyo-ahn, as next in the line of succession, has assumed the role of national president. He will remain in place until a new president is elected.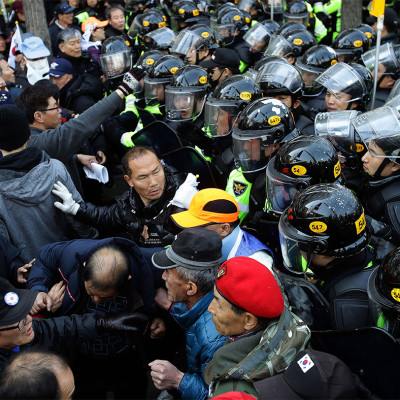 What is the situation on the streets of Seoul?
The situation has led to unrest on the streets, with South Korean media reporting at least two people have been killed in the capital of Seoul. Hundreds of security personnel have been deployed outside the constitutional court to keep the calm.
Park's impeachment has stoked fears of further political polarisation in the already divided country. Thousands of Pro-Park supporters, wearing military fatigues and red berets, clashed with security forces. They shouted and hit police officers with flag poles, climbing on buses the police used to create a perimeter protecting the court.
Prior to the ruling by the constitutional court, anti-Park protesters had also promised violence.