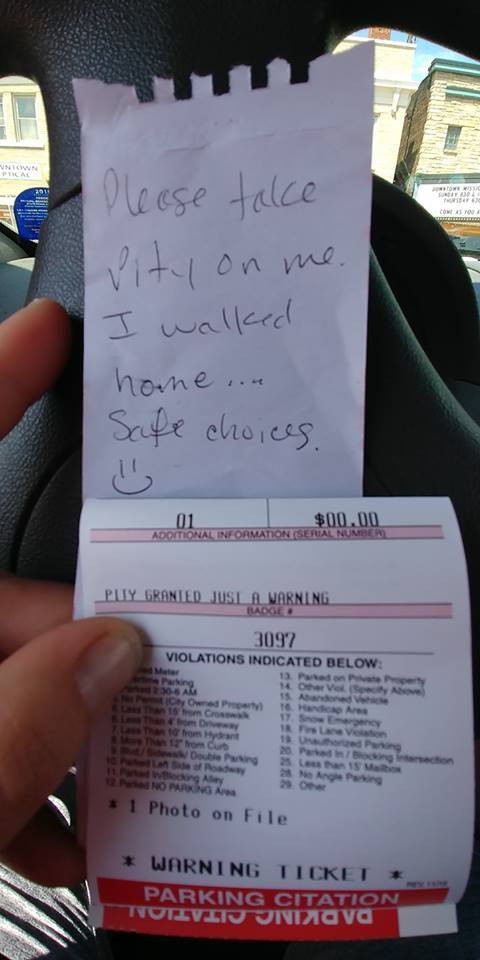 A parking officer in Wisconsin took pity on a man and decided not to issue him a ticket after finding a note saying the driver had decided to walk home as a "safe choice".
"Please take pity on me", the note read, "I walked home... safe choices." The driver also drew a smiley face.
When Parking Control Officer Jim Hellrood saw the note, he issued the driver with just a warning with a note that read: "Pity granted. Just a warning."
Wasau County Police Department shared an image of the note and warning ticket that the driver had sent to them, adding that Hellrood "can appreciate people making safe choices, and a good sense of humor. That's why he recently issued a warning to a vehicle left in a metered lot overnight".
Local reports said that the man had been drinking and therefore decided it was too dangerous to drive.
A number of people commented on Wasau Police Department's post on Facebook praising the man for making the decision not to drive and the officer for showing leniency.
"This is awesome!" wrote one user, "Kudos to the person that realized walking was a better choice and to the police officer for acknowledging that!"
Though the comments were overwhelmingly positive, not everyone praised the decision. One user wrote: "Why drive in the first place if you plan on drinking? No alternative transport? DON'T DRINK!"