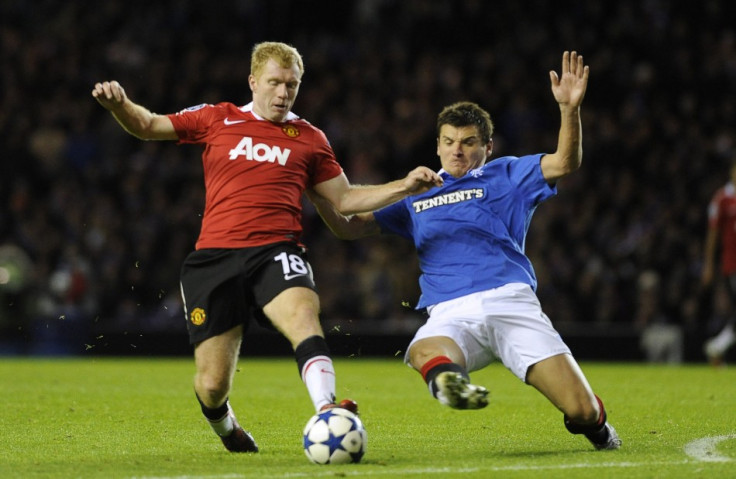 Manchester United midfielder Paul Scholes has announced his retirement from football at the age of 36, with immediate effect.
Scholes, who made his United debut in 1994, played 676 times for the club and will now join the coaching staff at Old Trafford.
There had been speculation about the 36-year-old's future in the past few weeks after he became increasingly dissatisfied with his bit-part role at Old Trafford.
In the end, the announcement came in much the same way that he conducted his career, with minimal fuss and no interest in the limelight.
"I am not a man of many words but I can honestly say that playing football is all I have ever wanted to do and to have had such a long and successful career at Manchester United has been a real honour," he said.
"This was not a decision that I have taken lightly but I feel now is the right time for me to stop playing. To have been part of the team that helped the club reach that 19th title is a great privilege."
Scholes's 77th-minute substitute's appearance in the Champions League final was his last competitive appearance, but the midfielder will play in his testimonial match at Old Trafford in August.
Famously taciturn
Although Paul Scholes was born in Salford, not far from Old Trafford, he was brought up on the Langley estate in Middleton and grew up watching football on the terraces at Oldham Athletic's Boundary Park ground three or four miles away.
He joined the Latics as a junior, and played for them alongside his future Manchester United midfield colleague Nicky Butt, as well as the Neville brothers, Gary and Phil.
He started training with Manchester United after being spotted by Mike Coffey, the then United scout who taught him at Cardinal Langley High School. He joined the club as a trainee in the summer of 1991.
His debut came on 21 September 1994, where he scored twice in a 2-1 victory over Port Vale in the Football League Cup.
In addition to winning 10 Premier League titles, Scholes was a member of the team that triumphed in the 2008 Champions League final against Chelsea, but was suspended for the 1999 final win over Bayern Munich.
He also won 66 England caps before retiring from international football following the Euro 2004 tournament, aged only 29, in order to spend more time with his young family and less within the confined atmosphere of a travelling football team.
"The only thing I will definitely miss is the football, not the general life of a footballer," he said at the time.
A unique player
Sir Alex Ferguson has led the praise for one of the players most associated with his reign at the club, and confirmed that Scholes's experience will not be lost to the club after he hangs up his boots.
"What more can I say about Paul Scholes that I haven't said before?" said Ferguson.
"We are going to miss a truly unbelievable player. Paul has always been fully committed to this club and I am delighted he will be joining the coaching staff from next season. Paul has always been inspirational to players of all ages and we know that will continue in his new role."
United chairman David Gill called Scholes one of United's greatest ever players, saying his retirement marks "a very sad day for Manchester United fans around the world."
"We all know that Paul was one of the players that came through the ranks of the academy system in the 90's and has established himself as one of the greatest players to ever wear the United shirt. It is very important that the club keeps the associated with these great players and we are delighted that Paul will join the coaching staff." Responsible responsible
Scholes was also held in high esteem by his fellow professionals - former world player of the year Zinedine Zidane called him "the complete midfielder" and "my toughest opponent.
"Scholes is undoubtedly the greatest of his generation," Zidane said.
'You rarely come across the complete footballer, but Scholes is as close to it as you can get."
And Spanish midfielder Xavi Hernandez added, "In the last 15 to 20 years the best central midfielder that I have seen - the most complete - is Scholes. Scholes is a spectacular player who has everything.
"He can play the final pass, he can score, he is strong, he never gets knocked off the ball and he doesn't give possession away. If he had been Spanish then maybe he would have been valued more."
Paul Scholes' career record
Age: 36
Date of birth: 16 November 1974, Salford
Manchester United
Appearances: 676
Goals: 150
Debut: 21 Sept 1994 v Port Vale (A) League Cup
England
Caps: 66
Goals: 14
Debut: 24 May 1997 v South Africa (Old Trafford)
Trophies
Premier League: Ten 1996, 1997, 1999, 2000, 2001, 2003, 2007, 2008, 2009, 2011
FA Cup: Three 1996, 1999, 2004
Football League Cup: Twice 2006, 2010
Champions League: Two 1999, 2008