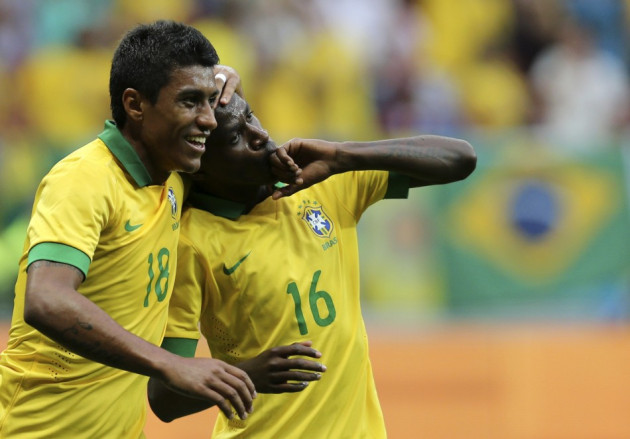 Tottenham Hotspur midfielder Paulinho is ready to set aside his friendship with Chelsea's Brazilian quartet when the two sides meet at White Hart Lane this weekend.
Alongside fellow Spurs man Sandro, Paulinho will come face-to-face with fellow countryman Oscar, David Luiz, Willian and Ramires when Jose Mourinho's side travel to north London.
And Tottenham's summer signing, who has already netted three times for his new side, says his affection for his international team-mates won't be a factor when taking on Chelsea.
"There is a level of affection there, a friendship between us all," Paulinho told the Daily Telegraph.
"But when we step onto the field of play we are there to defend ourselves and defend our team so I will be there fighting for Tottenham Hotspur.
"It's a big match here in London, and in Brazil, where many people will watch, and it's important for us, as a stepping stone also to win more games.
"We faced Arsenal and did not get the result we wanted [a 1-0 defeat]. But we are going down the right path so it's great to have this opportunity to play against Chelsea in order to prove our level.
"Within the club we know our ability and this will start with this match against Chelsea."
Despite being one of seven new additions in the summer transfer window, Paulinho has wasted little time gelling with his new Spurs team-mates, inspiring the club to seven wins from their first eight games in all competitions.
And should Tottenham overcome Chelsea this weekend they would open up a five point lead on their capital rivals, albeit it with only six games played, and hand Andre Villas-Boas side the ideal start to the season ahead of another assault on the top four.
Paulinho added: "The main challenge that he put forward was qualifying for the Champions League and fighting for the Premier League,"
"After that there are the cups - either in England or in Europe.
"Tottenham are a team that is going to enter these competitions to win them. Step by step we are reaching that level."