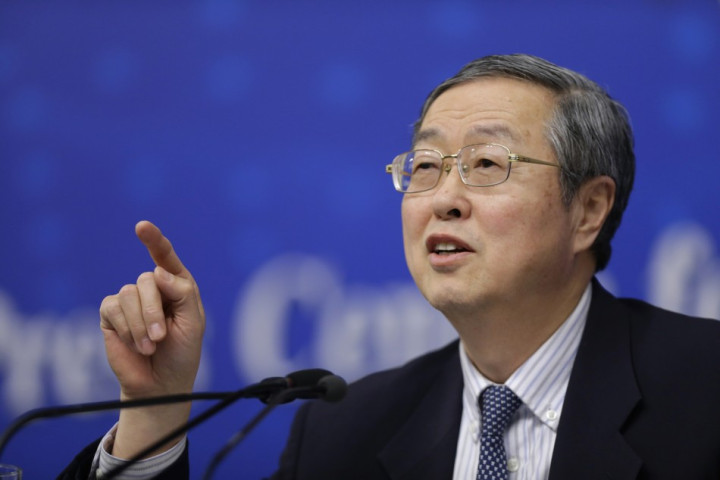 The People's Bank of China (PBOC) will adjust liquidity in the banking system to keep the financial markets stable, says the central bank's Governor Zhou Xiaochuan.
Speaking at a press conference, Zhou suppressed fears that a cash crunch could further pull down slowing growth in the world's second largest economy, in his first public statement since the liquidity crunch surfaced last week.
Without referring directly to the cash crunch, Zhou said monetary policy settings were fitting and that the PBOC would balance the need to reform the country's economy with the need to keep growth on an even keel.
"China's economic growth has slowed but is still within a reasonable range," said Zhou at a financial forum in Shanghai.
"China's current economic and financial operations and consumer prices are generally stable, all of which show prudent monetary policy is appropriate and producing good results."
Zhou also said that China would balance competing demands.
"On one hand, we will guide financial institutions to keep reasonable credits growth while arranging their debts and maturity structures properly to support the structural adjustment and upgrading of real economy," he said.
"On the other hand, we will also give a full play to a variety of tools to adjust market liquidity at appropriate time to keep markets generally stable, creating good monetary conditions for stable financial market and economic development."
China's decision to curb easy credit has been praised by economists who believe that it is a risk worth taking in order to guide the economy away from debt-driven investments and towards a more sustainable path.
However, concerns surrounding the country's short-term growth trajectory remain.
Barclays' head of the China banks sector May Yan, said in a report today that Chinese government-agency officials and think tanks indicated low visibility on economic growth. The report added that the world's second largest economy may be heading towards a growth rate of 6.5% to 7.5% in 2013, as against the government's target of 7.5%.
This is the fourth time that the PBOC is addressing liquidity concerns in a week.
Earlier, the central bank tried to pacify troubled markets when it said that bank liquidity remained at reasonable levels and that it had asked Chinese banks to strengthen liquidity management to ease the liquidity crunch in the world's second largest economy. Later, the PBOC said that it would not drain or inject funds into markets.
The central bank's hands-off approach pulled down mainland Chinese equities with investors selling on concerns that China's slowing economic growth rate could fall further.
The Shanghai Composite index entered bear market territory earlier on Tuesday, down by 5.28% in intra-day trade, after closing 5.3% lower previously. Banking stocks were hammered and the benchmark index logged an over 20% drop from a ten-month high in February.
This forced to the PBC to step in, after the financial markets had closed on Tuesday, and announce that it would lend a helping hand to the country's liquidity-starved banking sector by "guiding market interest rates to reasonable levels." But it did not elaborate on what represented a reasonable range.