More than 30 years ago, PC Yvonne Fletcher was killed after being shot outside the Libyan embassy in London while policing anti-Gaddafi protests. Police were immediately aware the shots had been fired from inside the building, where several people were acting as diplomats for Gaddafi and the Libyan government.
Despite this – even after an 11-day siege at the Libyan People's Bureau in St James's Square – all the occupants were allowed to leave the building, whisked to Heathrow Airport and returned to Libya without being questioned by police or even having their bags searched.
To this day, no one has ever been charged over the 1984 murder of PC Fletcher and no murder weapon has ever been recovered. On 19 November, Met Police arrested a Libyan man in his 50s on suspicion of conspiracy to commit murder after acting on new evidence.
Police were powerless in 1984 to gain entry into the embassy to arrest any suspect because they were deemed to be under diplomatic immunity, a law which gives a country's representative the right to escape lawsuits or prosecution in another country. The law, which was signed under the 1961 Vienna Convention on Diplomatic Relations, is used to ensure diplomats cannot be prosecuted for committing offences not recognised in their home country and be protected from prosecution for political reasons.
Diplomatic immunity has been described as being a "get out of jail free card" – allowing foreign offenders to escape prosecution for a range of offences. In 2011, New York was estimated to be owed more than $17m (£11m) in unpaid parking tickets racked up by foreign diplomats. Possibly the most extreme example was the case of Georgian diplomat Gueorgui Makharadze, who killed a 16-year-old girl while drink-driving but released because of his immunity. He was eventually tried and convicted after the Georgian government took the rare step of waiving his immunity.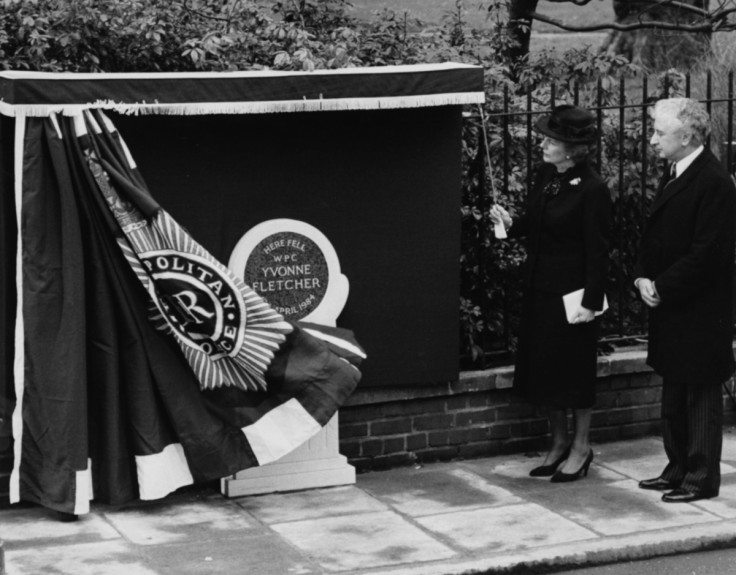 According to National Archives documents released last year, late prime minister Margaret Thatcher and late home secretary Leon Brittan accepted that the UK "would have to allow a murderer to go free" by letting those inside the embassy in April 1984 leave the country.
Despite this, Professor Craig Barker, Dean of the School of Law and Social Sciences at London South Bank University (LSBU), and an expert in diplomatic immunity clauses, said the British government were "right at the time" to follow the rule as diplomatic immunity is a "crucial part" of international relations.
He told IBTimes UK: "Had they not done so then all the British diplomats in Tripoli would have been rounded up and imprisoned. This isn't just bout foreign diplomats coming here and behaving badly, it's about making sure our representatives abroad can't be accused wrongly of crimes.
"We need to provide protection for our diplomats who are serving abroad and in order to secure that we need to provide immunity to diplomats serving here.
Barker added: "There's a lot in the law which ensures diplomats aren't just given a carte blanche. The vast majority of diplomats don't abuse their immunity and it's very rare for a diplomat to commit such a heinous crime."
There are provisions within the law which would allow someone to be arrested and tried when they return to their country, or for the government to allow them to be extradited to face trial. However, following the siege at the embassy, the UK and Libya cut all diplomatic ties, meaning the possibility of the Gaddafi regime voluntarily handing over the culprit became virtually non-existent. This diplomatic stand-off remained until 1999, when the Libyan government accepted responsibility for the death of Fletcher and paid compensation to her family, a gesture which help reopened ties between the UK and Tripoli.
Warning: Some viewers may find the footage distressing.
Despite the importance of diplomatic immunity, Barker argued it should never have applied in this case. "That particular embassy wasn't actually a proper embassy," he said. "It was a bunch of students who had been given diplomatic immunity because Gaddafi's regime had sent them over. We should never, ever have allowed that to happen."
Once an individual has left the country, they no longer have immunity unless they have committed an "official act" - where an individual had been following an official line from the state or undertaking an act on behalf of the government.
Barker explains: "If I was [the suspect's] defence lawyer, I would try to claim that [the shooting] was an official act. It may be they were ordered to fire out of the window to disperse the crowd, but that in itself is a highly illegal act. I find it difficult to see how any court in this country would uphold the idea that an order to shoot out of a window could be seen as an acceptable official act of the state."
Following the arrest of a fresh suspects linked to the killing, a Downing Street spokesperson said: "It would be inappropriate for us to comment on an ongoing case. But it does remind us all of the dangers that our brave police officers face on a daily basis and the extraordinary courage they show. And it highlights the determination of the police to pursue those who attack others and make sure people are brought to justice."