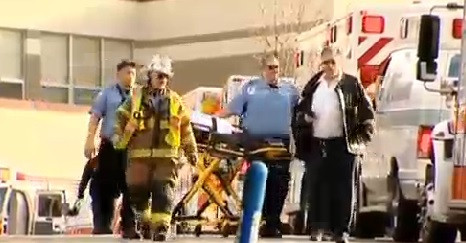 As many as 20 students and staff have been injured in a knife rampage at a high school in Pennsylvania.
Four pupils at the Franklin Regional Senior High School in Murrysville were in critical condition and have been airlifted to hospital.
A suspect, believed to be a pupil at the school, has been taken into custody following the early morning attack. The victims' ages are said to be between 14 and 17, according to reports.
The motive behind the attack is not known.
Management at the school posted on its website: "A critical incident has occurred at the high school. All elementary schools are cancelled, the middle school and high school students are secure.
"Additional information will be released as soon as possible. Please keep our campus clear of traffic."
Witnesses said the stabbing occurred in the science wing.
"One of the children that pulled the alarm, my daughter said, after the incident happened to clear the school. She reported to me it was a 10th grade student," parent Tim Graham told local news channel KDKA.
The school was put on lockdown after the incident and students were being kept inside until they could be released to their parents.