Pep Guardiola has scored an early victory over Jose Mourinho ahead of Saturday's Manchester derby after it was revealed the City boss is more popular than his Old Trafford adversary. According to research carried out by bettingexpert.com, who studied social media, the Spaniard is more than twice as popular than Mourinho.
The former Barcelona and Bayern Munich manager, who will take charge of his first derby at the weekend, has more than 4.6m followers across Facebook and Twitter, millions more than Mourinho who has a combined following of 1.8m across social media including Instagram, which Guardiola is not yet signed up to.
City might have the larger following when it comes to managers but when it comes to the Manchester club's overall popularity United romp to victory.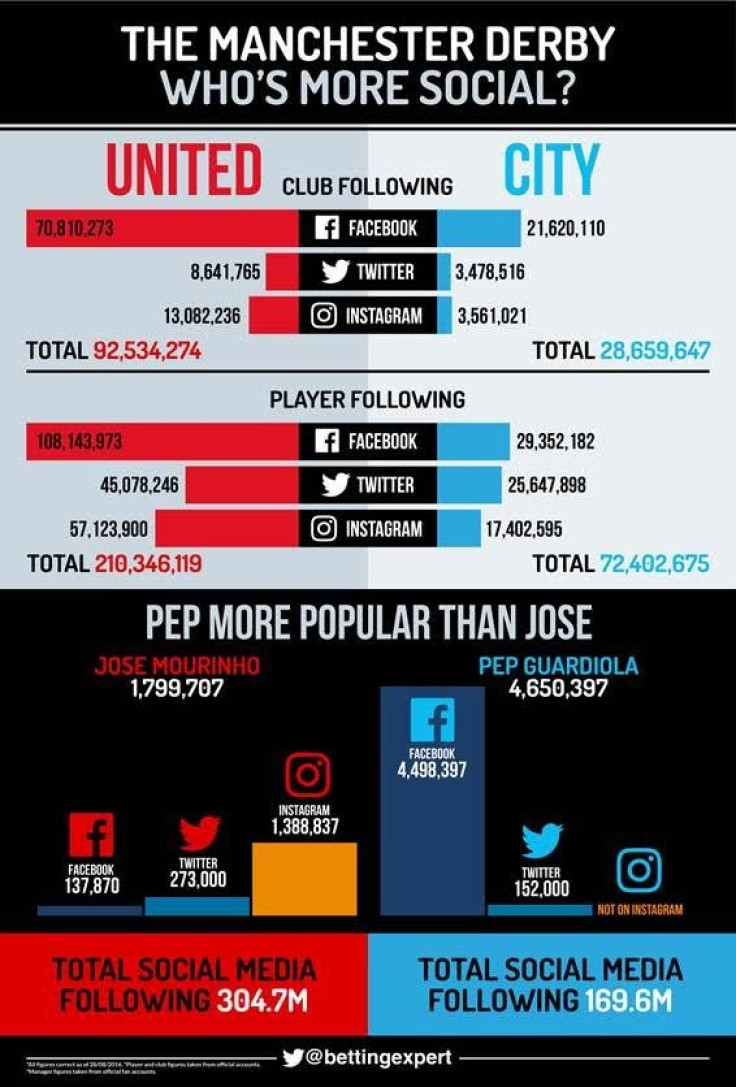 In the battle to win hearts and minds – or in the pursuit to appeal to advertisers – United have a whopping 92.5m followers on social media compared to City's 28.6m. The club's popularity is matched by that of the respective players. United's squad has amassed 210.3m followers while City have 72.4m.
Henrik Lykkesteen, chief commercial officer for Better Collective, said: "Manchester United are a global icon and, despite City's raise up the ranks in recent years, they are still no match for United on the social scene. United's superiority on Facebook, Twitter and Instagram wouldn't force me to believe they are the bigger and better club, though. Social media can be a big distraction for players and popularity doesn't always win points."