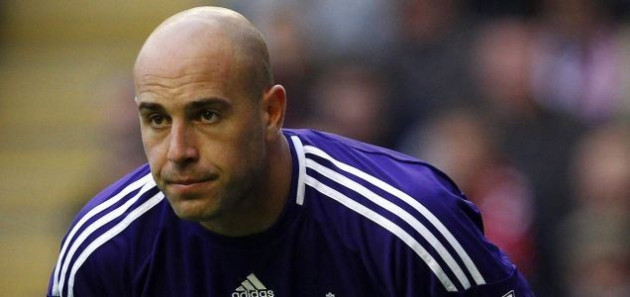 Pepe Reina has reiterated that he is happy at Liverpool - but refused to say that he would reject a move to Barcelona.
Speaking at the launch of his new website and twitter account, the Spanish international addressed recent rumours suggesting Barcelona want him to replace Victor Valdes at the Nou Camp.
Reina said: "It's difficult to say no to Barcelona, although I'm not certain that they are interested in me.
"I am content [at Anfield] and I have a contract. The rumours are always there, but I am very happy at Liverpool."
Reina also expressed his appointment at the forthcoming Confederations Cup campaign, saying "I like to have busy summers in the national team and I think that I'm really going to enjoy it," before turning to the recent furore surrounding his teammate Luis Suarez.
Many pundits have predicted that Liverpool will attempt to sell Suarez's after the Uruguayan attracted oppobrium for biting Chelsea defender Branislav Ivanovic. But Reina chose to emphasise Suarez's qualities, saying: "He has committed some errors and he knows this. "He is a humble guy and he has had a terrible time.
"[on the pich] he makes his own chances and destabilises opponents. For me, Luis Suarez is priceless. He gives so much to Liverpool.
"If they want to sell him, they should sell him well."
The next Vin Diesel?
Meanwhile Reina has earned glowing reviews for a bizarre cameo in a film directed by his award-winning compatriot Javier Fesser.
Reina's big screen debut came in a comedy vignette called Invictus, in which he plays a dumb Roman centurion out to thwart Ceasar.
Producer Luis Manso praised Reina's acting qualities, telling the Liverpool Echo: "He exceeded all our expectations and was constantly offering suggestions to actors, directors and producers alike.
"I've worked with a few sportsmen and plenty of celebrities but I've never met anyone so professional.
"If, when he hangs up his gloves, he wants to work with less hard working, serious and talented actors than him, he should give me a call!
"Most of Spanish cinema is saying Pepe is a star in the making."