The number of people killed by the Taliban in yesterday's Peshawar school massacre is far higher than official reports, according to IBTimes UK's source on the ground.
The two hospitals treating yesterday's victims have told our source 160 people are dead. The highest figure quoted by the media so far is 148 - 132 children and 16 staff.
The Lady Reading Hospital has apparently confirmed 31 fatalities, while the Combined Military Hospital has confirmed 129. However these figures have not been verified.
The source also claims the actual toll "is at least 250" because one of the hospitals, the Lady Reading Hospital, is "hiding its actual figures".
IBTimes UK contacted the Pakistan High Commission in London for a response to the claims but no one was available for comment.
'The schools are closed - and no one knows when they'll re-open'
Meanwhile, a child protection officer who volunteered to help out in the Lady Reading Hospital after yesterday's massacre has described the current scene in Peshawar.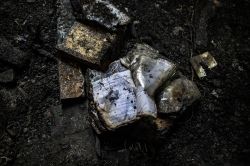 Shama Asad told IBTimes UK: "Today there was complete silence in the town. Shops, offices and schools were closed down. There was a complete sadness throughout Peshawar.
"There was a protest in Peshawar on the roads, students were coming out of their homes and they were protesting against the terrorist attack. The entire roads of Peshawar were blocked, many of the army were deployed.
"They were carrying posters, asking 'how is responsible for killing these innocent children'. It was a peaceful walk.
"The schools are closed, for the time being it's only for three days but maybe it will go on. People say now they are scared to send their children to school. Many of the children in our neighbourhood keep on watching the TV showing the dead bodies, keep seeing the pictures on Facebook. We keep on crying, crying and crying.
"Now I can see more anger towards the Taliban, this was a brutal attack. No one can kill an innocent child. How can someone kill these innocent souls?"