The headmistress burnt alive in yesterday's Peshawar school attack told the terrorists she was the students' mother, in a vain attempt to shield them from the Taliban massacre.
That is according to IBTimes UK's source on the ground, who has been to both the hospitals which received the dead and wounded from yesterday's attack, and spoken to senior officials.
The source said: "According to my information, the honourable principal [Tahira Qazi] was asked by the terrorists 'where are the students and why are you hiding them?'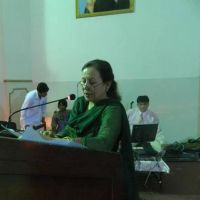 "She replied: 'Talk to me, I am their mother.' The terrorists replied 'ok, you die first, in a miserable way.' She was burnt and bullets were fired in her head directly. A brave lady.'"
Our source also claimed that six of the students at the Army Public School, all aged between 10 and 12, were "slaughtered" by the terrorists. However he did not give further details.
Meanwhile, Pakistani police have issued a warning that Taliban terrorists are plotting to place magnetic bombs on buses carrying students to school.
Authorities based in Islamabad issued a letter which requested that schools increase their security measures and ensure that checks are made underneath buses transporting students and other vehicles.
Pakistani government spokesman Mohiuddin Wan has also told the media that "black warrants [execution orders] will be issued within a day or two", as Pakistan continues to recover from the shock of yesterday's assault.