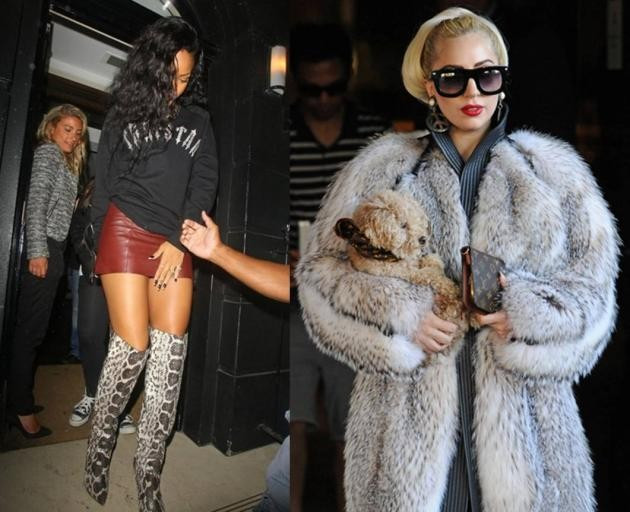 Pop stars Rihanna and Lady Gaga have been labelled freaks by hardline animal rights group Peta for wearing fur and reptile skin.
The organisation criticised the We Found Love hitmaker's decision to wear thigh-high snakeskin boots during a trip to London while Gaga came under fire for her love of fur.
"Rihanna may not have a clue that snakes killed for boots are often nailed to a tree and skinned alive. Of course, they can't go on Oprah to cry about it." Peta said.
"Wearing reptile skin is creepy and callous and it makes her look even more out of touch. She and Lady Gaga seem so desperate to be freaks instead of recognised for their talents that you have to wonder if they realise that they are being laughed at."
Gaga recently faced a fierce backlash from Peta after she stepped out a number of times in coats thought to be made of animal fur despite previously insisting she was against wearing fur.
During an appearance on the Ellen DeGeneres Show in 2009 the Bad Romance singer said: "I hate fur and I don't wear fur".
However, the singer has since responded to Peta's attacks in a cheeky message on her website.
Although she refused to reveal whether the fur coat was real or not, she asked the group to respect her views in the same way she respected theirs.
"I am choosing not to comment on whether or not the furs I purchase are faux fur-pile or real because I would think it hypocritical not to acknowledge the python, ostrich, cow hide, leather, lamb, alligator, 'Kermit' and not to mention meat, that I have already worn,"
"You see a carcass, I see a museum pièce de résistance. I am truly sorry to fans who are upset by this - it's a fair and applaudable feeling about the health and safety of animals. I respect your views. Please respect mine," she said.
Lady Gaga Bodyguards Attack Over-Excited Autograph-Hunter [VIDEO]