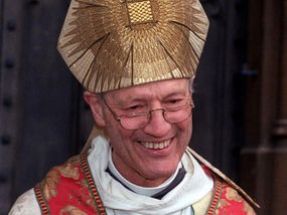 Seven more people have come forward to make allegations against retired bishop Peter Ball, the most senior British cleric ever to be arrested on suspicion of sexual abuse.
The former bishop of Lewes and Gloucester, 80, was arrested by Sussex Police at his home near Langport, Somerset, on Tuesday is part of Sussex Police's ongoing investigation into sex abuse within the Anglican church.
As a diocesan bishop, Ball was below only the archbishops of Canterbury and York in Britain's ecclesiastical hierarchy at the peak of his career.
The arrest was made after a man accused Ball of molesting him when he was 12 year old. However seven more alleged victims have since come forward, accusing Ball of abusing them during the 1980s and 1990s.
Detective Chief Inspector Carwyn Hughes of Sussex Police, who is leading the Operation Dunhill inquiry, said: "We are very interested to see that so many people have contacted us since Tuesday, and every report is being followed up.
"Anyone else who wishes to contact us is encouraged to do so by calling Sussex Police via 101 and quoting Operation Dunhill. Calls are treated with great sensitivity. The force will always take seriously any allegations of historic sexual offending, and every possible step is taken to investigate whenever appropriate.
"Allegations of historic offences are treated just as seriously as any more recent offences."
Police have also confirmed the arrest of a 67-year-old man in west Sussex, on suspicion of two separate offences against teenagers who were 17 and 18 years old when the alleged abused took place between 1981 and 1983.
Another three allegations were made against the unnamed west Sussex suspect following his arrest.
However Sussex Police added there was no evidence of recent or current offending by Ball or the other suspect, nor is any child at risk.
Ball's arrest follows a report in May from Lambeth Palace, the headquarters of the Anglican Church. Handed over to police, it contained two pertinent claims from a Church of England safeguarding consultant, although the nature of the claims has yet to be revealed.