A video has been published online which appears to show the beheading of US hostage Peter Kassig, also known as Abdul-Rahman Kassig, and a number of people who appear to be Syrian pilots.
In the 15-minute video, Although The Unbelievers Dislike It, circulated on Sunday, a number of men, including Kassig, are seen kneeling in the desert with uniformed men standing behind them. Some of those standing are masked but some identifiable and appear to be from a variety of racial backgrounds.
The Isis (Islamic State) militant known as "Jihadi John" then familiars a familiar warning to both David Cameron and President Obama, claiming: "Islamic State will soon begin to slaughter your people on your streets."
It is unclear when the latest video was filmed as it is thought Jihadi John was wounded in an air-strike last week.
In one sickening sequence, the camera lingers in what seems to be slow-motion over the men's terrified faces as knives are held in gloved hands. There is a silence, apparently for those present to pray.
Unlike the other videos the footage appears to show every moment of the men's execution in close-up. It then goes on to show a map of the Middle East with Isis flags from Algeria to Yemen, implying that this land either held or in the sights of Islamic State. The video is apparently shot outside Dabiq, 50km (30 miles) north of Aleppo in northern Syria.
Although Kassig's beheading is not shown the footage then shows his head in the sand with "Jihadi John" standing over him, knife in hand.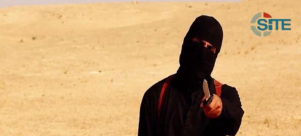 The terrorist says: "This is Peter Edward Kassig, a US citizen of your country. Peter, who fought against Muslims in Iraq, was serving as a soldier in the American army, does not have much to say. His previous cellmates have already spoken on his behalf."
The militant, believed to be from London, is thought to have personally beheaded at least four other captives including Britons Alan Henning and David Haines.
Kassig and Henning shared a cell before the Salford taxi-driver's murder.
Kassig, 26, was taken hostage in October 2013. He had returned to Syria as a charity worker after previously being in the US armed forces in Iraq in 2007, having worked as a medic in a Palestinian refugee camp and a hospital in Tripoli, Lebanon, before going to Syria to help victims of the civil war by establishing an aid organization, SERA (Special Emergency Response and Assistance).
In October Peter's parents made a video appeal for his release and even attempted to tweet the Islamic State leader Abu Bakr al-Baghdadi. Peter's family claim he converted to Islam on captivity, taking the first name Abdul-Rahman.
Speaking at the G20 summit in Brisbane before news emerged of the latest video, Prime Minister David Cameron said: "You should be in no doubt that I want Jihadi John to face justice for the appalling acts that have been carried out in Syria, but I wouldn't make any comment on individual issues and strikes."
In a statement the Foreign Office said: "We are aware of further video and are analysing contents. If true, this is a further disgusting murder."
UPDATE: video has now been confirmed as genuine. More soon.