Peter Thiel considers Trump administration 'incompetent' and worries it will end in 'disaster'
Thiel's associates described a number of conversations, revealing his dwindling belief in Trump's presidency.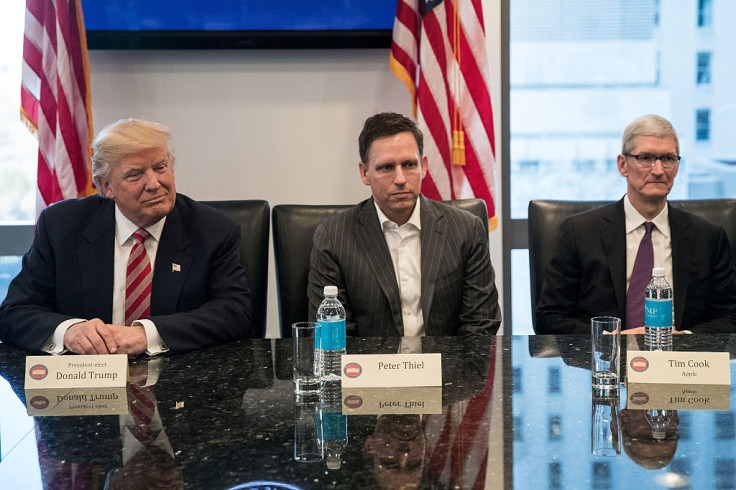 Peter Thiel, one of the only Silicon Valley supporters of President Trump, has reportedly begun distancing himself from the president, describing his administration as "incompetent" and one that may lead to a "disaster".
According to associates of Thiel who spoke anonymously to Buzzfeed News, the Paypal founder has developed increasingly pessimistic feelings about the president. In fact, he has criticized Trump and his administration a number of times in private settings between spring of 2016 to as recently as May - in contrast to his public backing of Trump.
These sources have had candid discussions with Thiel on different subjects, including his political views and backing of Trump. In one such conversation from early this year, Thiel expressed his doubt on Trump's presidency saying "there is a 50% chance this whole thing ends in disaster". He even questioned the "president's ability to be re-elected" in other conversations, describing the administration "incompetent."
Even as top executives from leading tech giants expressed concerns about Trump's election, Thiel remained his high-profile backer and became one of the only few outsiders to make into his inner circle. The Paypal founder also endorsed Trump's vision "to make America great again" at the 2016 Republican National Convention, which helped Trump secure nomination from his party.
"When Donald Trump asked us to make America great again, he's not suggesting a return to the past - he's running to lead us back to that bright future," Thiel said of Trump, whom he called the only candidate to be "honest" about the fact that "fake culture wars only distract us from our economic decline".
Though Thiel's actual views remain private, the conversations described by his associates - amid a series of ousters from Trump's staff - mark the latest instance of President's faltering relations with top Silicon Valley executives. His immigration policies and move to pull the US from the Paris climate accords has already drawn criticism from top tech bosses including Tesla CEO Elon Musk.
© Copyright IBTimes 2023. All rights reserved.