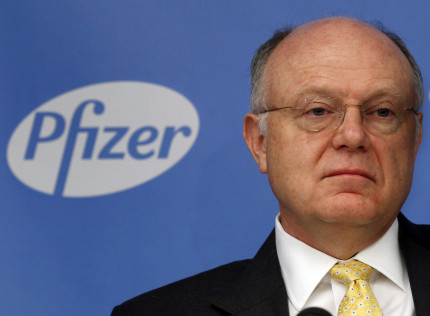 If ministers had hoped the first committee hearing into the proposed Pfizer takeover of AstraZeneca would help them off the hook on the issue, they will have been disappointed.
After a long and sometimes testy evidence session in front of the business committee of MPs, Pfizer boss Ian Read would not guarantee to protect all 7,000 British jobs or maintain current levels of spending on research and development.
Persistently pressed by Tory MP Brian Binley, he admitted the merged firm would become efficient through the loss of some jobs.
"I'm not sitting here saying we can become efficient without some reduction in jobs," he said.
But, just as with the R&D budget, the CEO of the US pharmaceutical giant insisted he could not put a figure on the actual reductions or where they would come but he stressed there would still be "substantial" jobs in the merged firm.
The frustration from some of the MPs was palpable with Binley declaring the committee had heard a lot of sales talk but very few facts.
And promises that the company - famous for inventing the anit-impotence drug Viagra - was trustworthy and had already given unprecedented assurances clearly cut little ice in the face of the lack of any real detail about what the direct result of the takeover would be.
The reaction to the hearing in Westminster was widely one of disappointment mixed with nervousness that Pfizer was unable or unwilling to offer the sort of reassurances being called for.
Ed Miliband, who met the company's bosses after the hearing, was clearly not reassured and is pressing the government to invoke a public interest test, fearing over the future of jobs and R&D.
A source said the hearing had done nothing to change Labour's views on the proposed takeover and that Pfizer still had questions to answer.
Business secretary Vince Cable told the same committee he had taken advice on the public interest option, but was neither ruling it in or out at the moment. He also repeated warnings there were EU legal issues.
The upshot is that the ball remains firmly in the government's court as Labour and even some Tory MPs continue to call for a public interest test to be applied to the proposal.
The prime minister has already insisted he wants to get more reassurances from Pfizer over its intentions, but he did not hear those from today's meeting.
His spokesman repeated that ministers were engaging with both sides on the proposal, adding: "The government will want to consider the outcome of those committee hearings. We will continue to engage robustly in support of jobs and R&D."
But with the lack of clarity coming from the first committee meeting, with a second to follow on Wednesday, the onus remains firmly on the prime minister.