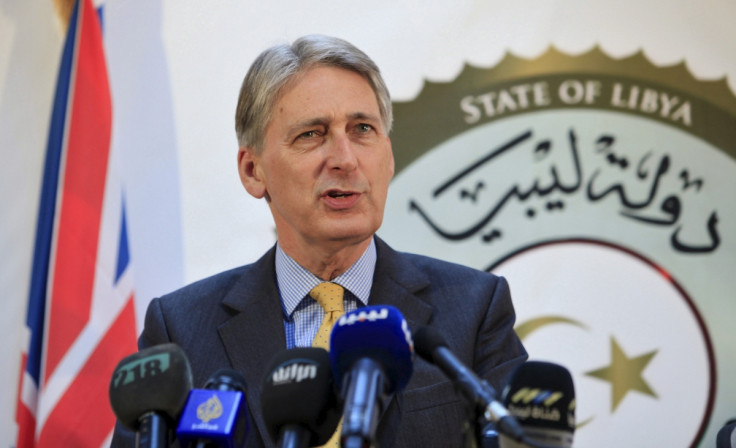 Philip Hammond has ruled out the possibility of deploying British combat troops in Libya, but is prepared to help with air strikes and naval operations. The foreign secretary made the statement following his return from the country, where he was visiting the new prime minister, Fayez Seraj.
"I am clear that there is no appetite in Libya for foreign combat troops on the ground," Hammond told the House of Commons on 19 April. "We do not anticipate any requests from the GNA for ground combat forces to take on Daesh [an Arabic acronym for the Islamic State] or any other armed groups and we have no plans to deploy troops in such a role."
Libya's Government of National Accord (GNA), including Prime Minister Fayez Seraj, arrived in Tripoli just weeks ago and lawmakers indicated they would not accept foreign assistance for fear of stoking existing tensions. Libya has been ravaged by civil war since August 2014. If Seraj's administration asks for help, Hammond said Britain would "be wrong to rule out any future requests for air or naval support to a counter-Daesh operation."
Hammond's comments came amid speculation that 1,000 British troops could be sent to the war-torn nation as part of a 6,000-strong international force. He hinted that foreign assistance could be an option should the Libyan government decide to mount an attack on the IS-stronghold of Sirte, located on the country's northern coast.
"The type of mission that we currently envisage would be focused on providing training and technical support away from any frontline operations," he said. The foreign secretary estimates there are around 3,000 IS (Isis) fighters in Libya and said that a number of "pointers" signal that now is the time to move against the terror group.
"It's certainly the case that the Libyans will not be able to develop either naval or air assets in any reasonable period of time to support such an operation," said Hammond. "Indeed, it is quite possible that from a military point of view they would seek assistance from outside. If it comes we will consider it."
"I will of course keep the House informed of any plans we develop in the future in response to requests from the Libyan government," the foreign secretary insisted. MPs would have a say on any such operation.
According to the Daily Mail, a Ministry of Defence (MoD) spokesperson said: "The UK continues to work with international partners on how best to support the new Libyan government." They added: "All planning has been focussed on training Libyan Security Forces to provide their own security to the government and Libyan people.
"No decisions have been made about the future deployment of any British military forces."