Fans of the 2007 film The Golden Compass, starring Nicole Kidman and Daniel Craig, are sure to be disappointed that the long-awaited sequel is unlikely to happen soon. But it's not all bad news, because Philip Pullman's His Dark Materials trilogy is being now developed as a eight-part television series for the BBC.
Pullman, who is set to act as an executive producer on the series, expressed his enthusiasm towards the project, urging that it keeps the stories exciting by telling them in different formats.
"It's been a constant source of pleasure to me to see this story adapted to different forms," he told BBC News. "It's been a radio play, a stage play, a film, an audiobook, a graphic novel – and now comes this version for television.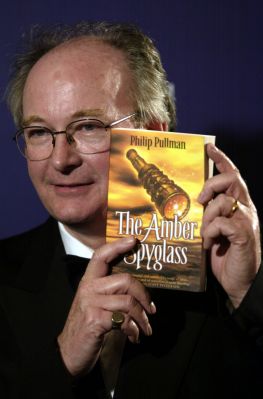 "In recent years we've seen how long stories on television, whether adaptations [Game of Thrones, Sherlock] or original [The Sopranos, The Wire], can reach depths of characterisation and heights of suspense by taking the time for events to make their proper impact and for consequences to unravel.
"And the sheer talent now working in the world of long-form television is formidable. For all those reasons I'm delighted at the prospect of a television version of His Dark Materials."
His award-winning epic fantasy novels – Northern Lights, The Subtle Knife and The Amber Spyglass – were published in the late 1990s, and have been distributed in more than 40 languages and sold nearly 17.5 million copies.
They tell the story of Lyra Belacqua, a young orphaned girl who lives in a parallel universe where every human's soul is embodied by an animal companion, called a dæmon.
In the first book, she embarks on a dangerous mission that sees her encounter armoured, talking bears and witches as she tries to save her best friend and other kidnapped children from terrible experiments being carried out by a mysterious organization. In the second novel, she meets a boy named Will Parry who joins her on her adventures and fights against evil.
The new adaptation will be shot in Wales and produced by Bad Wolf – a company set up by former BBC executives Jane Tranter and Julie Gardner – and New Line Cinema, which worked on the film which also starred Eva Green, Ian McKellen and Skins' Dakota Blue Richards.
"Ever since they were first published these books have been a huge influence on so much of my thinking and imagination and it is enormously inspiring to be now working on them for television adaptation," Tranter said.
"The broad horizons of television suggests itself as the best of vehicles to capture the expansiveness of the story and worlds of Lyra and Will."
For all the latest entertainment news follow us on Twitter @alistinsider.