Alice In Wonderland 2: Disney unveils the first teaser trailer for Through The Looking Glass

Walt Disney Studios has released the first official teaser trailer for its upcoming movie sequel, Alice Through The Looking Glass. The studio took to Twitter to share the new footage, urging fans that it was "time to go back". And, of course, it means Wonderland.
Mia Wasikowska, who played titular character Alice Kingsleigh in the first film and is reprising her role in the second, can be seen, stumbling out of a floating door and plummeting through the clouds towards the ground.
James Bobin (The Muppets) is on board to helm the sequel with previous director Tim Burton acting as producer this time round. But the teaser has is no sign of returning actors such as Johnny Depp, Anne Hathaway, Helena Bonham Carter and Alan Rickman, who will also be back as the Mad Hatter, White Queen, Red Queen and Absolem the caterpillar, respectively.
While the clip is very short, it certainly looks like it will feature everything that audiences loved about the first film. In true Burton fashion, the colours look vibrant, the action looks heightened and, most importantly, it looks completely bonkers. What more could we want from Burton combined with Lewis Carroll's magical but wonderfully odd tale?
As well as the five main cast members, Michael Sheen, Timothy Spall and Barbara Windsor will also be reprising their roles, along with Stephen Fry and Matt Lucas who will be back as the Cheshire Cat (Fry) and both Tweedledee and Tweedledum (Lucas).
Newcomers to the film include Spectre's Andrew Scott, Borat actor Sacha Baron Cohen and Rhys Ifans.
It was back in August that Disney announced Alice Through The Looking Glass would be released on 27 May 2016, accompanying the news with the two posters below. The artwork debuted the films tagline, "It's time for a little madness", and features the same kind of dream-like visuals that permeated the first film.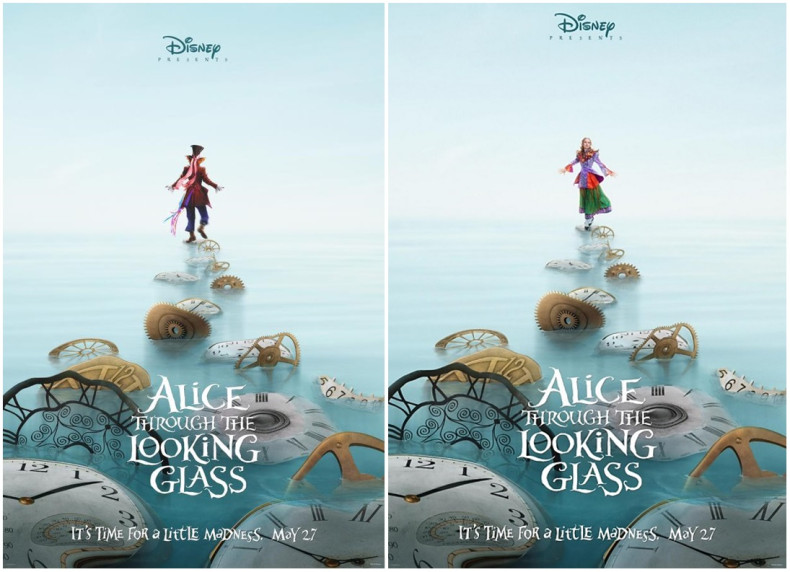 The plot of Alice Through The Looking Glass remains unknown, despite the novel it is based on already existing. Rumours have suggested that in the film, Alice will have to return to Wonderland to save the Mad Hatter, a theory certainly supported by the posters.
However, that theory does not reflect what happens in the original book, in which Alice unexpectedly returns to Wonderland through a mirror six months after her first visit. Upon arrival, she comes across the Red Queen, who explains to her the entire countryside is laid out in squares, like a gigantic chessboard.
She offers to make Alice a queen if she can move all the way to the eighth rank in a chess match, and so begins Alice's adventure where she only occasionally comes across the Hatter.
For all the latest entertainment news follow us on Twitter @alistinsider.