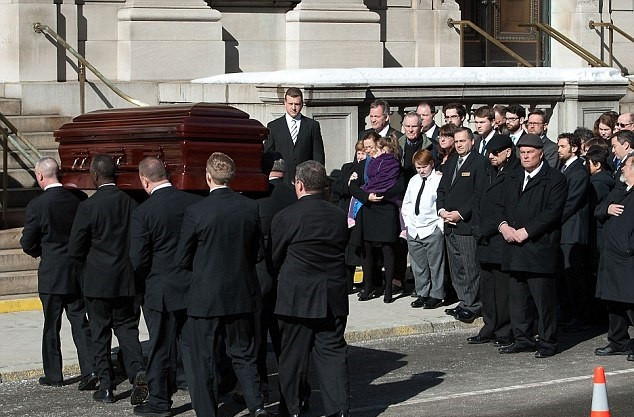 Philip Seymour Hoffman's closest friends and family paid an emotional farewell to the much loved actor, as he was laid to rest at a private funeral service in New York.
400 people attended the service at the Church of St Ignatius Loyola on Manhattan's Upper East Side, to pay their respects to the Oscar winning star, hailed as one of the greats of his generation.
Hoffman, who guarded his privacy fiercely in life, was in death, mourned beyond the glare of the cameras.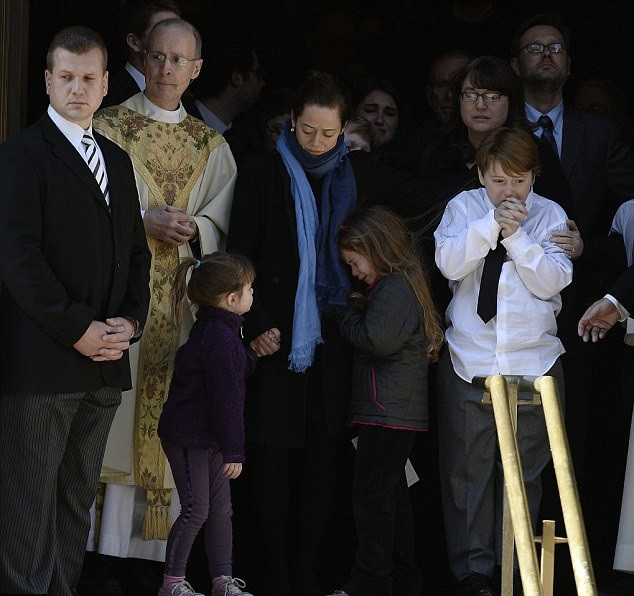 The actor's partner of 15 years, Mimi O'Donnell looked devastated as she held her three young children close and endeavoured to comfort them in the face of her own evident despair at Hoffman's tragic and untimely passing.
Cooper, 10, Tallulah, 7 and Willa, 5, watched as their father's casket was carried in the church around midday.
Hoffman's mother Marilyn O'Connor, with whom he shared a very close relationship, and to whom he dedicated his 2005 Oscar for Capote, bore the unnatural burden of attending her 46-year-old son's funeral.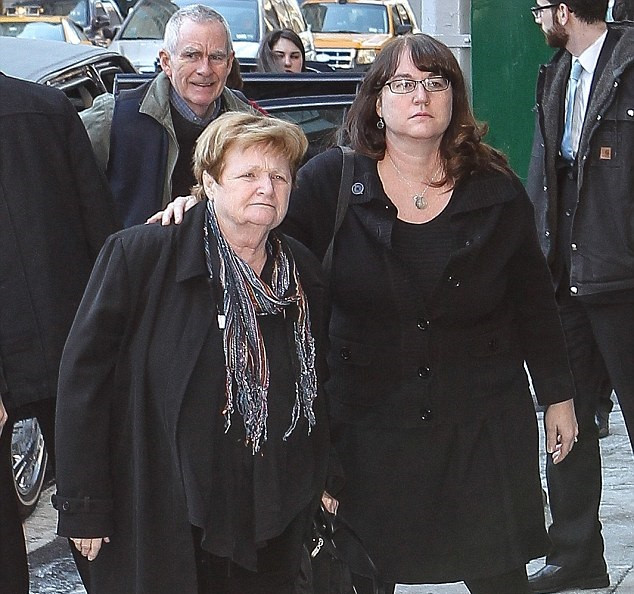 The actors closest friends from Hollywood, many of whom he had shared the spotlight with, were among the mourners.
Oscar winner Meryl Streep, who co-starred with Hoffman in Doubt, looked visibly distraught as she arrived for the funeral.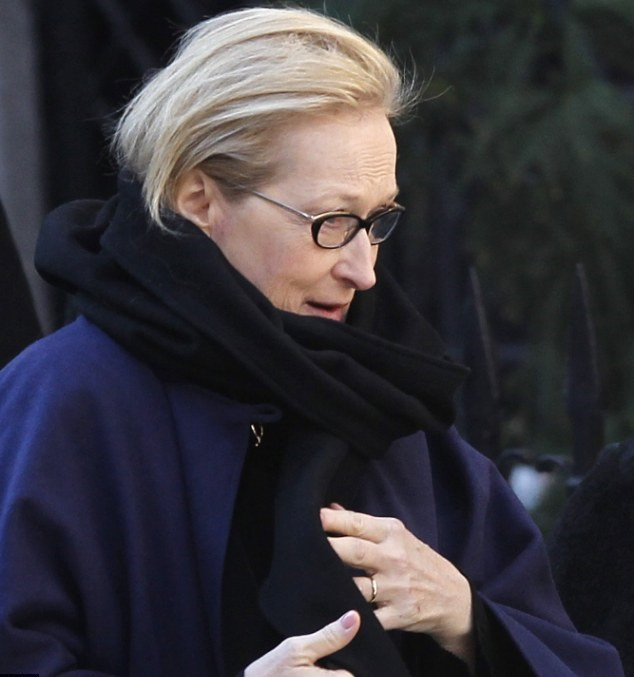 His Talented Mr. Ripley co-star, Cate Blanchett concealed her eyes behind large sunglasses as she walked into the church with husband, director Andrew Upton. The couple left the service weeping openly as they held onto one another for support.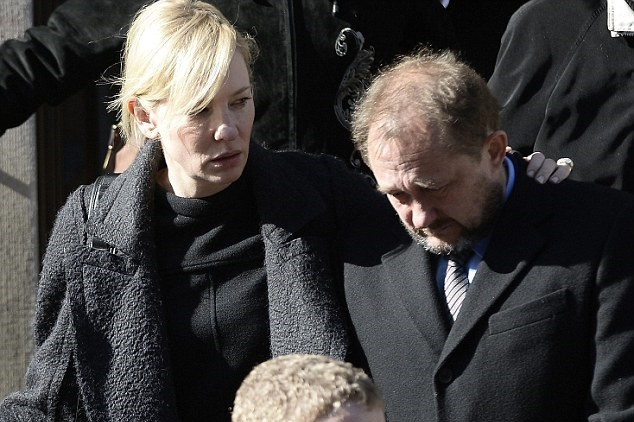 Actress Michelle Williams, who also lost her partner Heath Ledger six years ago to a drug overdose, was supported by former co-star Jake Gyllenhaal.
Hoffman's The Master Joaquin Phoenix and Amy Adams who shared the screen with Hoffman arrived for the funeral. Adams had a close professional relationship and a personal fondness for the star with whom she had worked on multiple occasions starring together in Doubt, The Master and Charlie Wilson's War
A sombre looking Marisa Tomei, who starred with the late actor in the Ides of March, walked into the church for the ceremony.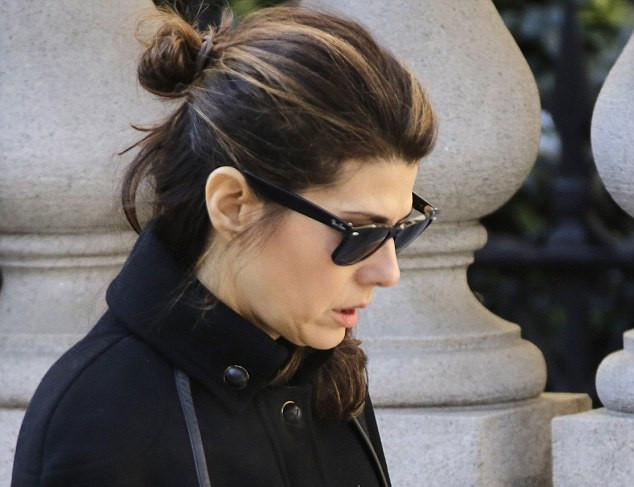 Ethan Hawkem who had co-starred with Hoffman in Before the Devil Knows You're Dead attended the funeral with wife Ryan, along with another of Hoffman's long time friends, actor Justin Theroux
Spike Lee, who directed Hoffman in the 25th Hour arrived early and stood in silent contemplation outside the church.
Julianne Moore, Laura Linney, Vanessa Redgrave, Ellen Burstyn, Ashley Olsen, Diane Sawyer John C. Reily wereamong the personalities paying their respects to their fellow New York thespian.
Hoffman's close friend, writer David Bar Katz, who discovered his body, was stricken with emotion as he arrived with his family.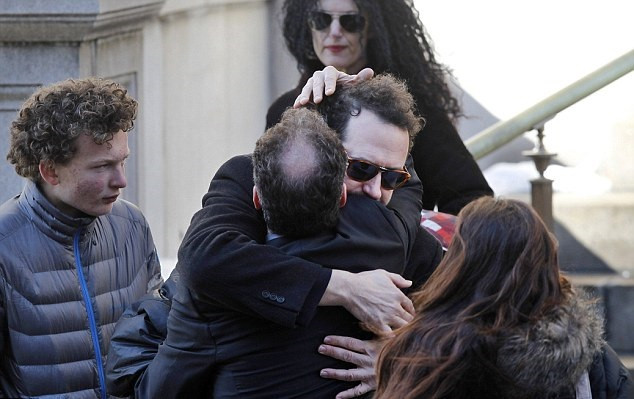 On Thursday evening, family and close friends gathered for a private wake at the Frank E. Campbell Funeral Home in Manhattan.
Among the mourners at the wake were many of the fiends who attended Friday's funeral including Streep, Blanchett, Phoenix, Williams and Sawyer.
Broadway honoured the actor on Wednesday night by dimming its lights for a minute, and many of Hoffman's peers gathered for a candlelit vigil.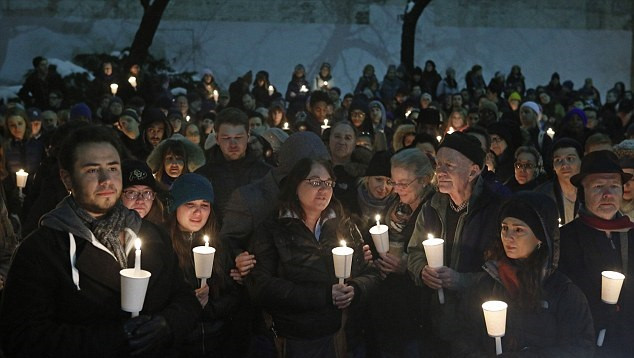 "We come together tonight in a spirit of terrible mourning and incredible loss,' the Rev. Jim Martin, a Jesuit priest and LAByrinth member, told the crowd of about 200 people. 'But we also come together to celebrate a remarkable life.'
"Courage was his forte, always," said playwright and actor Eric Bogosian, a longtime LAByrinth collaborator. "'Phil set his bar on the highest rung, on a rung above the highest rung.
"He pushed himself relentlessly until finally his efforts virtually redefined the very endeavour we call acting. That's what he wanted. He wanted to rock the world."'
A larger memorial service is being planned for later this month.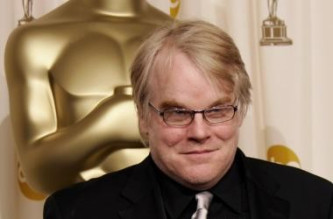 Hoffman was nominated for Academy Awards on four occasions and won the Oscar for best actor in 2006 for his portrayal of writer Truman Capote in Capote. He was nominated three times for a Tony Award.
The celebrated actor died of a suspected heroin overdose on Sunday 2 February, at the age of 46 at his home in the West Village.
He had waged a public battle with drug addiction and suffered a relapse after being sober for twenty years. He entered rehab in May last year, but his addiction spiralled out of control.
He was found with around 70 bags of heroin inside his apartment O'Donnell phoned his friend Katz to check on him after he failed to collect their children at 9am.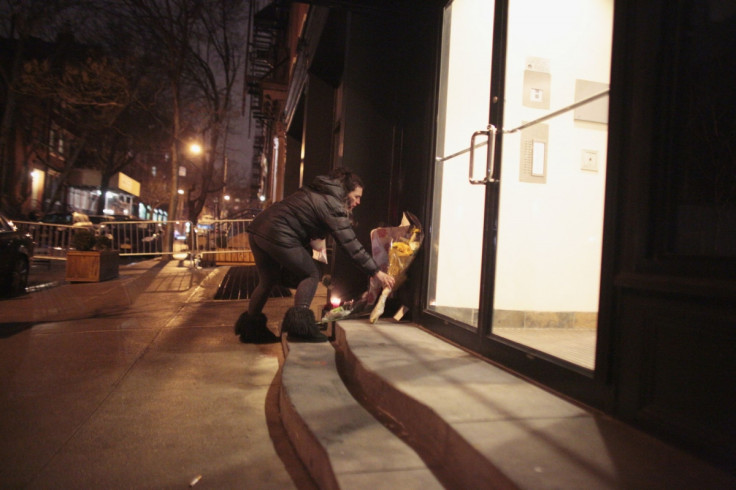 Following an investigation into Hoffman's death, three people have been arraigned on drug charges, including one who is facing a felony charge of heroin possession with intent to sell.
Lawyers for the three people charged vigorously denied their clients had any role in Hoffman's death.
Autopsy results were inconclusive, authorities said this week.
The Church of St. Ignatius Loyola has previously been the venue for the funerals of Jacqueline Kennedy Onassis, Lena Horne and Aaliyah.