Philippine senator accuses President Rodrigo Duterte of stashing £40m in hidden bank accounts
Senator Antonio Trillanes claims he possesses proof of the hidden assets.
A Filipino senator has accused firebrand President Rodrigo Duterte of squirrelling away almost £40m ($49m) in hidden bank accounts.
Senator Antonio Trillanes claims he possesses proof of a decade worth of bank statements which reveal that the Philippine leader, nicknamed "Duterte Harry" for his uncompromising attitude to criminals, has millions in hidden assets.
Trillanes published copies of bank statements he claims are from 2006 to 2015, which show that Duterte had assets totalling 2.4bn pesos (£38.3m; $48m) in numerous accounts.
Trillanes, a retired Navy officer, claims Duterte failed to declare the accounts before his election last May on a wave of anti-drug public fervour. Some of the accounts Trillanes says are joint accounts held with people close to him — either relatives or close business associates.
The 45-year-old Magdalo politician has been known to challenge Duterte and has even claimed that the president "wants him dead".
Duterte, also called 'The Punisher' after his promises to kill drug "pushers" in the lead up to his election, had been accused of keeping secret bank accounts by Trillanes as he ran for office.
Trillanes, who led a failed coup in 2003, has stated: "If my allegations are proven wrong, I will immediately resign as senator".
"The president has been vocal on his campaign against corruption, but how can we expect him to solve this problem when he himself had questionable amounts of money in his accounts?"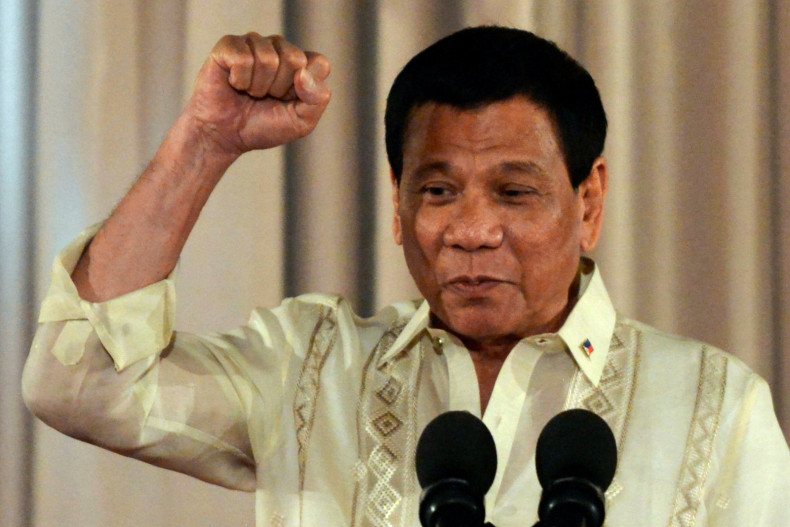 Reuters report that Duterte's legal counsel, Salvador Panelo, dismissed the allegations on Filipino radio as "old issues" and slammed Trillanes for seeking "free publicity".
Duterte vows to resign if allegations proven
Duterte, denied the allegations, in a video message recorded in his southern hometown Davao City.
In typical Duterte style, he threatened to resign if the allegations were proven and challenged Trillanes to go to court and file corruption charges against him.
"If Trillanes can prove his allegation that I have amassed 2bn pesos illegally or if that bank account under my name has a total deposit at one time of even just half a billion [pesos], I will resign as President immediately," said Duterte according to Rappler.
"I would advise Trillanes to go to court and file the proper case against me and advise him further to stop opening his mouth when he has nothing to say".
"I have answered his allegation before I became president. The people have already spoken, they have placed me in the office with 16 million votes," he declared.
Also in response to the allegations Duterte's spokesman, Ernesto Abella, said Duterte may release a history of all his bank transactions "if necessary".