Philippines: Al-Qaida-Linked Terror Group Abu Sayyaf Subject German Hostage to Mock Execution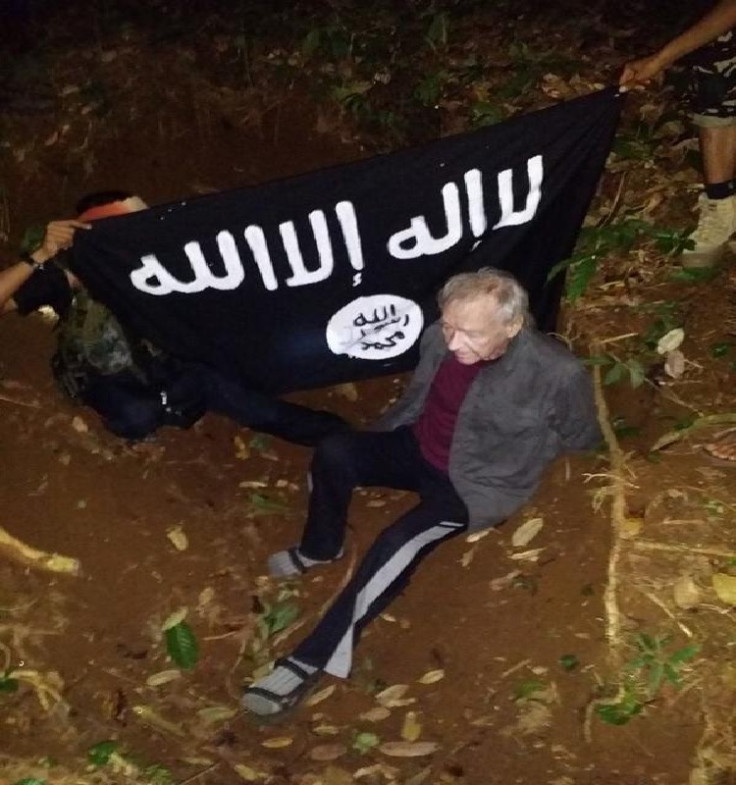 A photo has emerged today on social media, allegedly showing one of the two German hostages being held by Abu Sayyaf, an al-Qaida linked terror group, being subjected to a mock execution.
Stefan Viktor Okonek appears surrounded by four masked Abu Sayyaf gunmen and is kneeling in a freshly dug grave.
The 71-year-old later said in a local radio interview organised by his captors: "I'm here in a hole, it's a big hole 3 metres by 5 metres, they told me this is my grave. They push me inside the hole."
The German hostage, who is a retired university academic, was kidnapped along with his partner, Henrike Dielen. They were believed to have been taken hostage after trying to sail their yacht from Palawan to Sabah in mid-April this year.
The Filipino militant group have been demanding a 250 million peso (£3.4m) ransom. It has also demanded that the German government end its support for the US led coalition, which has been carrying out air strikes in Syria and Iraq, asking for:
"The government of Germany to stop helping America do its killings of our Muslim brethren in Iraq and Sham [Syria], Jordan, Lebanon and Palestine, and all the mujahideen brothers in Dawlah Islamiyah [Islamic State]."
Okonek revealed: "I have not seen anyone from the government to get into the situation that tries to get us out of here. They told me on Friday they will kill me."
Abu Sayyaf had previously set a 15 day deadline for 17 October, declaring they would execute Okonek "at exactly 3pm if they can't avail our demands."
Abu Rami, Au Sayyaf's spokesman, said in the local radio station interview: "We would like talk to the foreign affairs chief because his agency is not corrupt. We would reiterate to him our demands."
General Gregorio Catapang Jr, Armed Forces of the Philippines chief of staff, said that he did not think Abu Sayyaf will rush into executing the hostages while talks with local officials continue to happen.
"They will not do that because they know that if they maintain their negotiations for their demands with the German government and the local crisis management team [they may be met]."
It is believed the al-Qaida linked group is holding the two German hostages in Sulu, a small autonomous island province.
Hundreds of Filipino forces have been deployed on Sulu island, in preparation for the forthcoming deadline.
Abu Sayyaf are primarily based in the southern Philippines and were founded in the early 1990s. They have developed a reputation for their use of kidnapping, extortion and bomb attacks.
The group currently holds 10 foreign hostages including Lorenzo Vinciguerre and Ewold Horn, wildlife photographers from Switzerland and Holland, who were abducted two years ago.
© Copyright IBTimes 2023. All rights reserved.