Senators in the Philippines have cast doubt over the credibility of a witness who has testified to seeing President Rodrigo Duterte kill a man and order assassinations while mayor of Davao City.
Edgar Matobato, 57, voluntarily appeared at a televised senate hearing on 15 September and told an investigating panel that Duterte had ordered killings and also peppered a man's body with submachine gunfire during his two-decade tenure as Davao City mayor. According to Reuters, Matobato claims to be a member of the "Davao death squad" that has killed hundreds of suspected criminals "like chickens, chopped up their bodies, and even fed one man to a crocodile".
Although President Duterte is yet to comment on the claims, his political allies have dismissed them. National police chief, Ronald Dela Rosa, has called Matobato a "false witness" and said that death squads never existed in Davao.
Furthermore, Dela Rosa has praised Duterte's ruthless war on drugs, noting that he had cut the supply of drugs by 80-90% and that, as a result, police had begun "removing the fear of crime and violence in the hearts" of Filipinos.
However, others in the senate have come out in support of Matobato. Leila de Lima, a senator who was heading the panel investigating Duterte's drugs war, said that while she agreed Matobato could be wrong about some dates, she did not believe he was lying.
According to de Lima, Matobato's testimony shows a clear pattern between the hundreds being killed in Duterte's current drugs campaign and the more than a 1,000 deaths documented in Davao between 1988 and 2013. She has also put in a request for Matobato to be taken into protective custody, however, this was turned down on the grounds that his testimony was not related to the ongoing drugs crackdown.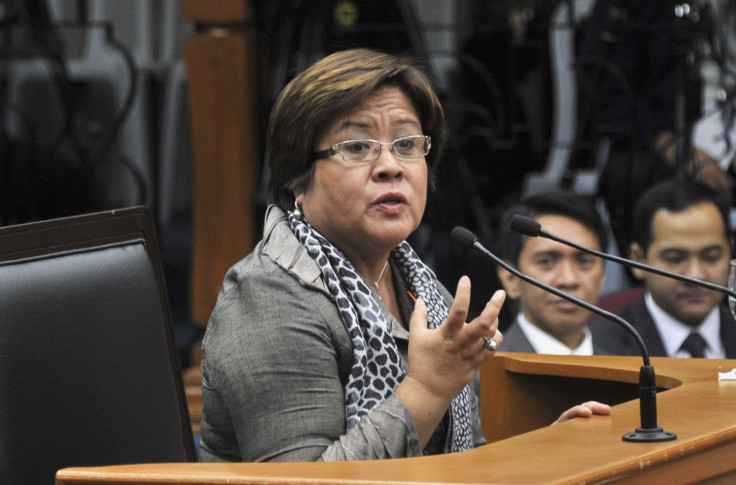 Despite widespread international criticism, Duterte has refused to backtrack on his campaign against illegal drugs. According to local police, at least 2,000 people have died in drug-related killings since Duterte won the election in May. Half of them have been killed in police operations, while the rest have been killed in shootings by unidentified gunmen.
During his term as mayor of Davao, Duterte was nicknamed "The Punisher" due to his tough stance against crime and threats to kill 100,000 criminals and "throw their bodies into Manila Bay". Living up to his nickname, Duterte's presidential campaign vowed to bring back capital punishment and give security forces the right to "shoot to kill".
During his campaign, Duterte said: "Forget the law on human rights. If I make it to the presidential palace, I will do just what I did as mayor. You drug pushers, hold-up men and do-nothings, you better get out. Because I'd kill you."