Hindus around the world have celebrated Diwali, the festival of lights. Also known as Deepavali and Tihar, Diwali is one of Hinduism's most important festivals, marking the homecoming of the god Lord Ram after vanquishing the demon king Ravana. The festival symbolises taking people from darkness to light in the victory of good over evil.
Hindus believe that on this auspicious day, Lakshmi, the goddess of wealth, enters their homes and brings good luck and prosperity. Traditionally, lamps are lit in every nook and corner of the house. Hindus decorate their houses with flowers and decorative lights, and wear new clothes. Later in the evening, entire cities are wreathed in smoke as millions of fireworks are lit.
IBTimes UK presents photos of colourful celebrations in India, Sri Lanka, Nepal, Pakistan and the UK.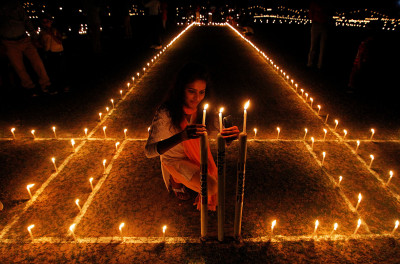 More from IBTimes UK