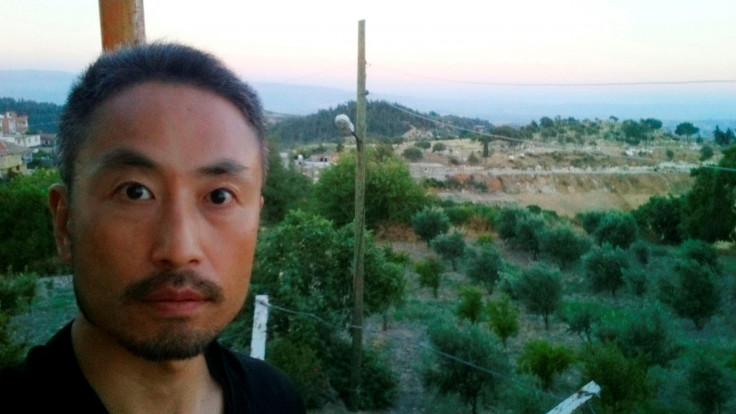 A new photo of a Japanese journalist, who is allegedly being kept hostage in Syria, emerged on the internet late on Sunday (29 May). The photograph shows a heavily bearded man wearing an orange t-shirt and holding a piece of paper with a shaky hand-written sign in Japanese pleading to rescue him.
The Japanese government is analysing the photo and believe it to be that of freelance journalist Jumpei Yasuda, who had gone missing almost a year ago. The government has assured it was doing its best to secure the release of Yasuda, Reuters reported.
The message in the image read: "Please help me. This is my last chance," and was signed "Jumpei Yasuda".
News of the 42-year-old going missing came to light after a video surfaced online in March, which carried his message to his family and country.
He was reportedly kept hostage by an al-Qaeda affiliate in Syria, and was not heard from since July 2015. Japanese media has reported that the journalist was captured by Sunni Islamist militia Nusra Front after he tried to enter Syria from Turkey to report on some of the issues in the Arab nation.
Japan's Foreign Minister Fumio Kishida said that the government was analysing the new photo, however, it was not clear when and where the image was taken. Speaking at a press conference, the Chief Cabinet spokesman Yoshihide Suga said that the Japanese government would do all that it could, including contacting the Syrian Islamist militia group.
"Since preserving the safety of Japanese citizens is our most important duty, we are making use of a broad net of information and doing everything we can to respond," Suga said.
In 2004, Yasuda had been detained in Baghdad and drew criticism for drawing the Japanese government into negotiations for his release. Meanwhile, Islamic State (Isis) militants had last year captured and beheaded two Japanese nationals – a war correspondent Kenji Goto and his friend Haruna Yukawa. Besides, three Spanish journalists detained in Syria were released by Nusra Front, according to AFP.