Pope Francis is in Poland to preside at a gathering of more than a million Catholic youth from around the world, sometimes called the "Catholic Woodstock".
However, the usually joyous event is being held in the aftermath the murder of a priest in a church in Normandy, France. The killing of 85-year-old Father Jacques Hamel, forced to his knees by Islamist militants who then slit his throat, has added to security fears surrounding the Pope's visit for World Youth Day.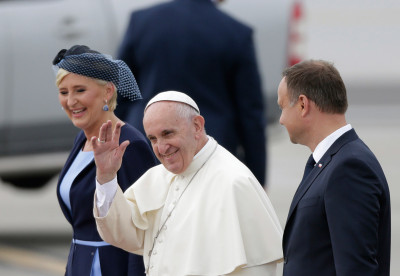 Thousands of young Catholics from around the world are gathered in Krakow for the festival. Over 350,000 people from 187 countries have registered online but organisers expect up to 1.5 million people to attend the main events, which include a night vigil with the pope on Saturday (30 July) and an open-air mass celebrated by the pontiff on Sunday.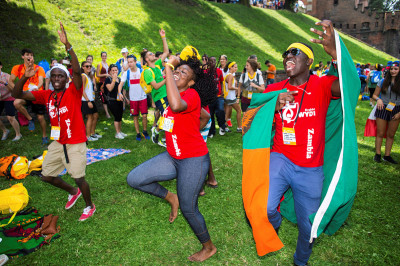 World Youth Day was established in 1985 by Polish-born Pope John Paul II, whom Francis declared a saint in 2014, and aims to inspire young people to follow Christian values of peace and love in life. The gatherings are held every two or three years. The first meeting was held in Rome in 1986, attended by John Paul II and some 30,000 participants. The largest World Youth Day gathering was in the Philippines in 1995, when an estimated five million people attended a Mass celebrated by John Paul II.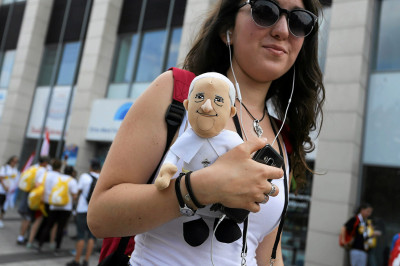 Security was already tight after a string of violent attacks in France and Germany. Polish officials say they have deployed tens of thousands of security officials to cover the event. Francis is expected to use the event to pay tribute to the murdered priest, who some say should be declared a martyr because of the way he was killed for his faith.
Pope Francis said the murder was particularly "barbarous" because it happened during the central rite of Christian worship as the priest was saying morning Mass. He spoke to reporters on the papal plane en route from Rome to Poland. Asked about the slaying of the priest, Francis replied: "It's war, we don't have to be afraid to say this." He clarified that when he speaks of war, he is speaking of "a war of interests, for money, resources. ... I am not speaking of a war of religions. Religions don't want war. The others want war."
During his five-day visit to Poland, the Pope will visit the Nazi death camp at Auschwitz-Birkenau, and pray at Czestochowa, site of the country's holiest shrine.