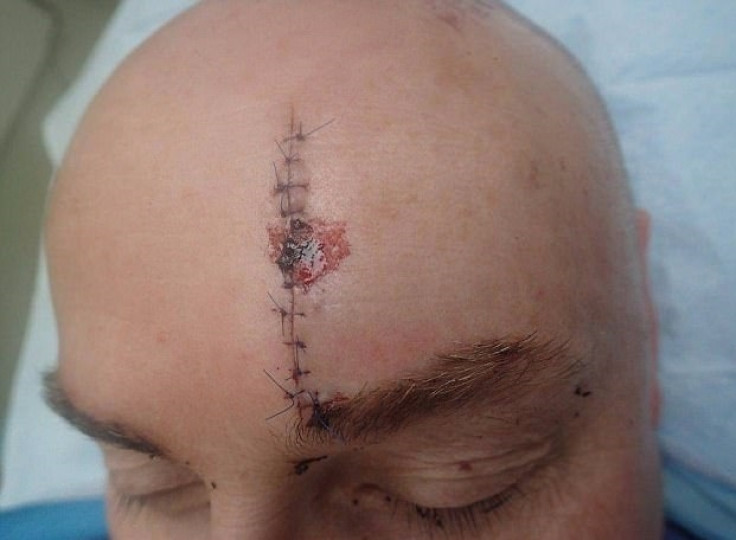 A policeman's skull was split wide open after he was attacked with a Samurai sword by a man suspected of beating his partner.
The 55-year-old father-of-four suffered horrific injuries after attending a domestic violence call near Perth, Australia, on Wednesday evening (19 July).
Local media said he lost a litre of blood and needed more than 25 stitches to his head.
One wound to the back of his head is so deep it has been left open until surgeons decide how to treat it.
Photos later emerged of the victim showing deep gashes to the top of his head and face. He remains in hospital in a stable condition.
Police say the officer's alleged attacker, Milos Radovic, 45, had been involved in a domestic violence incident at a property in Parkin Street, Rockingham. He had left the scene before officers arrived, but later returned.
The suspect was said by police to have lunged at the officer with a samurai sword in a "serious, unprovoked (and) vicious" attack.
"The officer was attacked from the front with the samurai sword," WA Police Union President George Tilbury told reporters. "It appears the sword first struck the front of his head then continued to cut him on the rear of his head. The police officer is very lucky to be alive."
Tilbury said he had spoken with the officer who was "surprisingly in good spirits" despite his "horrendous injuries".
Radovic was tasered and detained. He has been charged with a string of offences, including intent to maim by unlawful wounding and two counts of breaching a violence restraining order.
He appeared before the Rockingham Magistrates Court on Thursday and was remanded in custody to appear in court again on 2 August.