Prince William and Kate Middleton are on an official visit to Canada with their two children, Prince George and Princess Charlotte from 24 September to 1 October. During their visit, they will be accompanied by Canadian Prime Minister Justin Trudeau and his wife Sophie Grégoire Trudeau. They royals will see many of the most beautiful sights of British Columbia and the Yukon, including the Great Bear Rainforest and Montana Mountain.
IBTimesUK presents the 2016 Royal Tour of Canada, in pictures.
Day Six:
The Duke and Duchess of Cambridge took Princess Charlotte and Prince George to a children's party for military families at Government House. This was the children's first public appearance since they arrived in Canada five days ago and they were able to play with other children, enjoy the balloons and bubbles. After the party, Kate and William were able to spend some alone time with their family.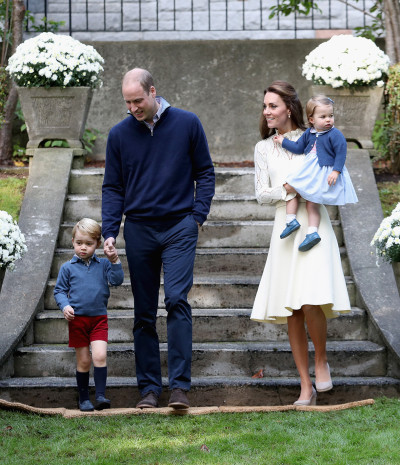 Day Five:
The Duke and Duchess continued their tour of Canada with a visit to the MacBride Museum of Yukon History in Whitehorse. The museum, which used to be a telegraph office, was visited by Queen Elizabeth II and the Duke of Edinburgh in 1959. After the museum, the royal couple travelled to Carcross by steam train. After arriving, they were invited to a welcoming ceremony of culture traditions and dances by children of Carcross Tagish First Nation tribe. William and Kate then painted totem poles and explored the hiking and biking trails, and returned to Victoria in the evening.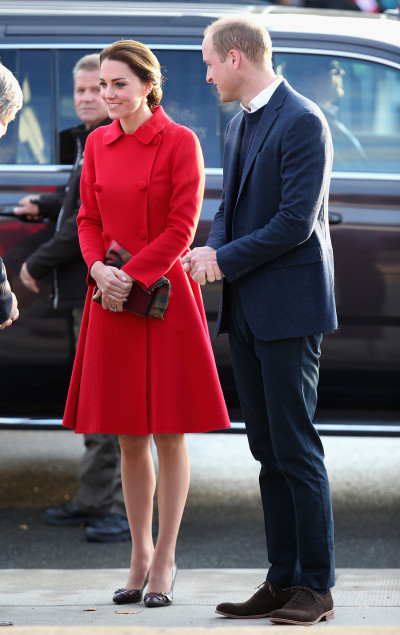 Day Four:
William and Kate flew to Kelowna, a city in the south of Canada's British Columbia province where they visited the University of British Columbia before watching a student volleyball match. Following the game, the royal couple took part in the Taste of British Columbia festival at Mission Hill Winery and were able to sample sushi and traditional Canadian cuisine. The Duke and Duchess then caught a plane to Whitehorse in Yukon, where they were met by the Canadian Rangers, and will be staying there overnight.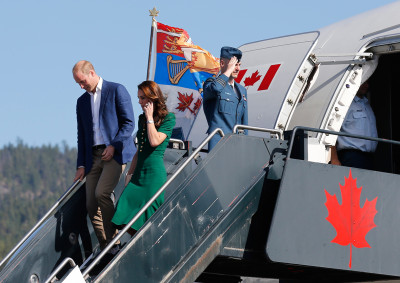 Day Three:
The Duke and Duchess of Cambridge flew in to Bella Bella airport in British Columbia during day three of their Canadian visit. Despite heavy rain, the royal couple still managed a visit to the Great Bear rainforest on the Pacific coast, which is now part of the Queen's Canopy Commonwealth initiative. Launched in 2015, the initiative will create a network of forest conservation programs involving all 53 countries in the Commonwealth. To mark the their visit, the royal couple unveiled a plaque within the forest, appropriately hidden under a rain coat. After the rainforest, William and Kate attended an official welcome ceremony by the Heiltsuk First Nation Community. The royal couple then flew back to Victoria for the Black Rod Ceremony which was held during a formal reception at Government House. Kate Middleton wore a red dress by London-based fashion designer Preen, a nod to the Canadian national colours.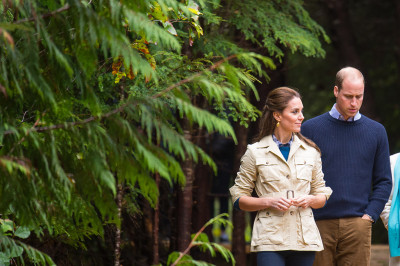 Day Two:
Kate and William flew to Vancouver on a float plane. They visited two charity organisations: Sheway, which helps vulnerable mothers who are battling with issues such as addiction and the Immigration Services Society of British Columbia, which helps refugees and migrants. After visiting the charities, the royal couple went to the Kitsilano Coastguard Station, where they met with rescue workers. Kate, who wore a pink and white Alexander McQueen dress, was presented with two life jackets for George and Charlotte. The children were staying at Government House to recover from the 10-hour flight the day before. The Duke and Duchess left the area by the Coast Guard's hovercraft before flying back to Victoria for the evening.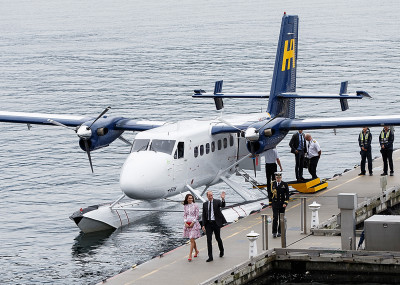 Day One:
Kate and William arrived at Victoria International Airport on a Royal Canadian Air Force plane on Saturday 24 September. They were greeted by Canadian Prime Minister Justin Trudeau and his wife Sophie Grégoire Trudeau. They then drove to Government House, which will be their main base throughout their stay. An official welcome ceremony was held in honour of the Duke and Duchess, which included honour guard and speeches (Prince William delivered his in French) and was open to the public. Kate wore a royal blue Jenny Packham dress embellished with matching Locke & Co hat.