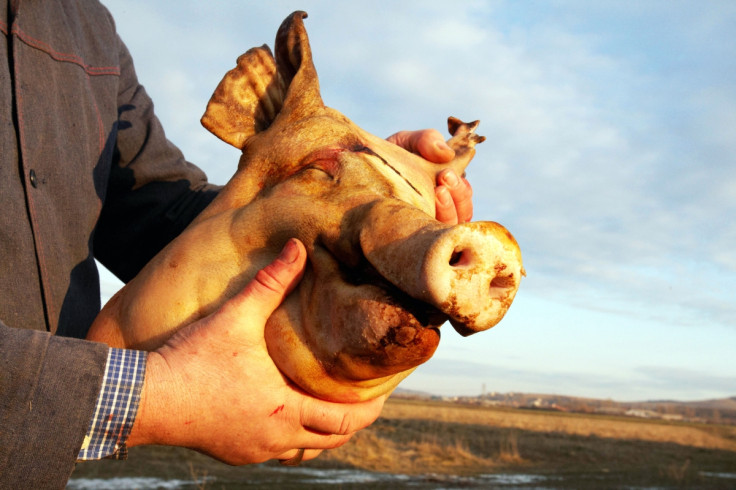 CCTV footage of a man discarding four severed pig heads outside the Solihull community centre has been shown during a hearing at Birmingham Ccrown court. The incident occurred on 12 April, five days after the centre was used by a Muslim group for an event about building a mosque.
According to the Birmingham Mail, prosecutors claimed that Carl Stephens, 34, targeted the building due to the nature of the event taking place. Police are also believed to have found spit nearby, which matched with Stephens' DNA.
Prosecutor James Bruce said: "On that particular weekend in April this place was associated with the Muslim community because of that event. You can see the items that Stephens left by the front door, and, really, they speak for themselves, four severed pig heads."
Stephens denies charges of causing religiously aggravated alarm and distress. He said that the man's actions in the CCTV footage "looked like littering rather than a religiously aggravated offence".
However, Bruce said: "The issue for you is whether he showed hostility towards Muslims by leaving those pig heads on the doorstep. We say that his actions speak for themselves."
The hearing comes after a man in Leeds allegedly tried to buy pig heads and feet from a butcher because he wanted to "desecrate as many mosques as possible". Recent figures have also revealed that religious hate crime in the West Midlands has doubled in the past year, with 87 offences recorded in 2013-14, compared with 163 the following year.
The figures prompted Prime Minister David Cameron to announce a separate category for anti-Muslim offences to be recorded, describing the results as "unacceptable". There has also been a 300% increase in hate crimes against British Muslims since the Paris terrorist attacks on 13 November.
Trial continues