The pilot of a chartered plane which crashed into a Colombian mountain, killing virtually everyone on-board, has been accused of being a "mass murderer" by a Brazilian pilot amid speculation the plane ran out of fuel.
Miguel Quiroga was operating the LaMia 2933 flight which crashed on Monday (28 November) in which 71 of the 77 people died, including 19 members of the Chapecoense football team.
Leaked audio of Quiroga's last words, before the plane crashed, suggest him pleading with air traffic controllers, asking for somewhere to land, stating that the plane was "in total failure, total electrical failure, without fuel".
Flight plans widely circulated on social media show that the estimated time of the journey and the plane's total range were the same, leaving no time for any delays. Brazil's O Globo newspaper reported that, due to a delayed departure, a refuelling stop on the border between Brazil and Bolivia was abandoned.
Since the tragedy, several pilots, family members of the deceased and the outraged public of Brazil have been vocal in their criticism of Quiroga and the LaMia airline.
"This really was a tragedy, a tragedy that this happened because of pure irresponsibility," one pilot told the Guardian anonymously. "What he [Quiroga] did was mass murder."
Caroline Machado, 19, whose uncle Eduardo Preuss was part of the coaching staff at Chapecoense, said her family was very "shaken" by the crash.
"It was 77 people's lives in the hands of one pilot," she said. "It was not just one family. It shocked the whole world, there is no doubt the company was wrong."
The Bolivian civil aviation authority has since suspended the operating licence of LaMia airlines, but they too have faced harsh criticism.
Brazilian pilot Evandro Garcia said that their operating procedures were more lax than other South American countries.
"Their criteria, their demands, are below other countries," he told the Guardian.
Yaneth Molina, the air traffic controller heard in the audio conversing with Quiroga, has also received death threats since the crash.
In a letter written to her colleagues and later released to the media, she said: "I did all that was humanly possible and technically necessary to preserve the lives of the passengers, but unfortunately my efforts weren't enough."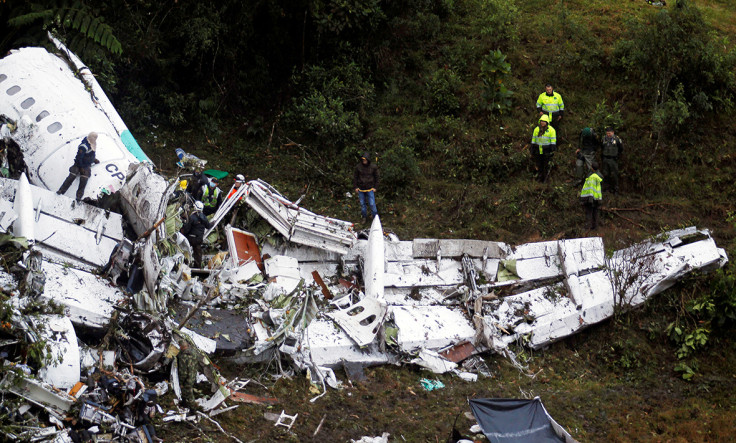 At the funeral of Quiroga, his father-in-law and part owner of LaMia, Roger Pinto Molina, apologised to the people of Brazil and pleaded for their forgiveness.
"We want to say to millions of Brazilians, especially the families, sons, parents and brothers in Chapeco that we are very sorry," he said.
"The word sorry does not resolve anything, but we want to ask for pardon."