Bill Gross has lashed out in a stunning attack against his former Pimco protégé Mohamed El-Erian who quit the world's largest bond fund in a shock February exit.
Gross, Pimco co-founder and co-chief investment officer, claims he has "evidence" that El-Erian was the source behind a revelatory Wall Street Journal (WSJ) story that lifted the lid on a fraught working relationship between the two men.
When El-Erian left his chief executive and co-chief investment officer roles at Pimco, he gave no public reason.
"I'm so sick of Mohamed trying to undermine me," Gross told Reuters in an interview.
When the news agency challenged Gross to produce the evidence, Gross reportedly said it was "on [El-Erian's] side".
"Great, he's got you, too, wrapped around his charming right finger," Gross said.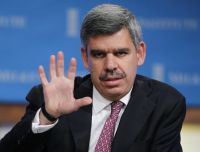 In a statement to Reuters, Pimco said Gross "did not make the statements Reuters attributes to him".
Back in February when El-Erian quit, Gross had described his right-hand man as "a great leader, business builder and thought leader for Pimco and our clients".
But according to the WSJ, the two men clashed at Pimco's office in Newport Beach, California.
"I have a 41-year track record of investing excellence – what do you have?" Gross asked El-Erian during one heated exchange, two witnesses told WSJ.
El-Erian replied that he was "tired of cleaning up your s**t".
Pimco, which is owned by the German insurer Allianz Group, manages $1.97tn (€1.45tn, £1.2tn) in assets.
El-Erian stayed on with Allianz as a consultant.