Legendary pop singer Pink has opened up about her high-profile clashes, setting the record straight about her beef with Christina Aguilera and why she called Kanye West "the biggest piece of sh*t on Earth."
The 38-year-old American singer and songwriter reconciled with Aguilera, 36, while on The Voice in August, but it soon got physical.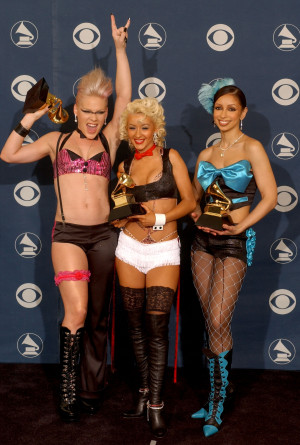 The Beautiful Trauma hitmaker told Andy Cohen during Plead the Fifth on Watch What Happens Live last night: "We were super young and super new at the whole thing, and I think I'm an alpha, and she's an alpha."
Addressing their differences, she explained: "I'm used to taking my altercations physical and she's used to having them verbal. We're just very different, we're very different. And we were very young and new."
When Cohen asked if Pink and Aguilera ever got into a fight, the singer revealed: "Actually, she swung on me in a club – it was hilarious.
"I was like, 'What's happening right now? What's happening?'"
The singers reportedly clashed when they recorded the track Lady Marmalade, fighting over who would sing the highest notes in the song.
Pink, who is a mother of two, insists that she and Aguilera are on good terms these days.
She said: "She's so talented and deep down I've had bad days, too. She's a really sweet person. We made up on The Voice. I mean, it was funny, I laughed. I hadn't seen her in years and years and years."
On why she thinks they put their differences aside, she explained: "We became moms. We grew up. We hugged it out. It's that simple. I feel so good about that."
Cohen also grilled Pink about the time she called rapper Kanye West "the biggest piece of sh*t on Earth" following his sabotaging of Taylor Swift's acceptance speech at the 2009 VMAs.
She said: "I think he's a talented genius. I just think some of us can't get out of our own way sometimes."
She refrained from apologising to his wife Kim Kardashian West over a tweet supposedly directed at her which read: "Shout out to all of the women, across the world, using their brains, their strength, their work ethic, their talent, their 'magic' that they were born with, that only they possess. It may not ever bring you as much 'attention' or bank notes as using your body, your sex, your tits and asses, but women like you don't need that kind of 'attention'."
She told the host: "Honestly, she went in on Bette Midler, and if you go in on Bette Midler, you're probably gonna hear from me. You just don't talk to Bette Midler ever about anything."