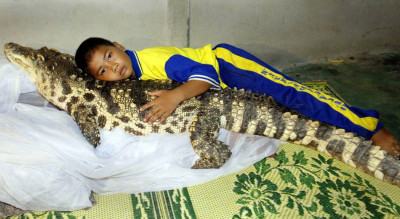 A man has been charged under the Dangerous Dogs Act after his pet dog Poison mauled five police officers in Newham, east London.
Pierre Robinson, 25, is accused of "allowing the dog to be dangerously out of control" following the attack which left five officers requiring hospital treatment.
The dog was eventually shot dead by an armed officer.
Shocking Video of Five Police Officers Mauled by Pit Bull in Newham, East London
Four breeds of dogs, including pitbull terriers, must be muzzled and kept on a leash in public under the act because they are regarded as too dangerous. The other breeds are the Japanese tosa, the Argentine mastiff and the filo Brasileiro.
As dangerous as these dogs can be, they are no match for some of the other exotic and dangerous animals people keep as pets.
Try house-training these: