Pizza power: This restaurant wants you to vote for London mayor with your taste buds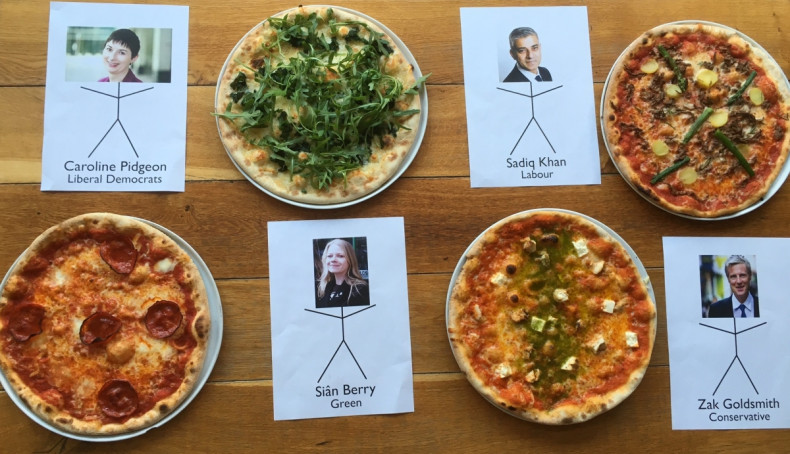 If the sharp words flying around the London mayoral election haven't quite captured your attention, one thing might help that: pizza. One restaurant is letting patrons cast their vote in a different way, by choosing which pizza topping they prefer.
Rather than focusing on boring policies, why not let your taste buds decide who should be leader of the UK's biggest city? Wedge Issue on Clerkenwell Road, near the City, is ready for you with four pizza toppings that they think encapsulate four of the main candidates.
Conservative candidate, Zac Goldsmith, seems to come out best from the selection, with his ground beef, rosemary, potatoes, sea salt and asparagus topped pizza being described as "reminiscent of a traditional Sunday Roast". Labour candidate, Sadiq Khan's option has more of a topic bite (and spicy kick) with his chicken with diabola hot sauce, a great "divide" of pesto sauce, then diabola hot sauce with chicken − Wedge Issue says it's a "split party pizza".
Sian Berry's Green credentials get her a kale, spinach and rocket on pesto sauce topping; while Liberal Democrat, Caroline Pidgeon gets another political joke, with hopefuls ordering the "promise" of rare, grass-fed kobe beef with unpasteurised cheese from a rediscovered Iron-age buffalo − but actually getting chorizo and buffalo.
Mayoral candidates interested in trying their own flavour are welcome to grab a slice on the house, say Wedge Issue, who will be regularly reporting the polling results and running a prize draw for a complimentary dinner for two.