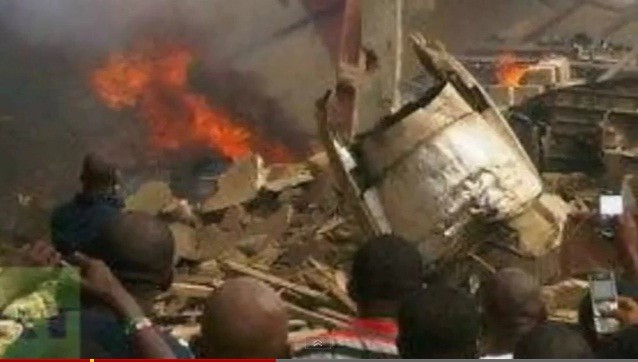 A passenger plane with 153 people onboard crashed into a densely populated housing area of Lagos, largest city of Nigeria, on Sunday night.
There were no survivors in the Dana Air plane crash, according to Nigeria's Civil Aviation Authority. The number of casualties on the ground is yet to emerge.
"It was a Dana flight out of [the capital] Abuja to Lagos with about 153 people on board," said head of the Civil Aviation Authority, Harold Demuren.
All on board the flight were killed in the crash, he said.
At least three houses were on fire as the Boeing MD83 aircraft crashed into a populated area. The plane crash landed on its belly in the densely populated neighborhood which is on the approach path of the aircrafts to Lagos' Murtala Muhammed International Airport.
The plane tore through roofs, sheared a mango tree, rammed into a woodworking studio, a printing press and at least two large apartment buildings in the neighbourhood before stopping, according to an Associated Press report.
The cause of the plane crash remained unknown. Dana Air has both regional and domestic flights operations.
Among the dead were four Chinese nationals, Xinhua, the Chinese official news agency reported.
Huge crowd gathered to see the crash site which hampered the efforts by the fire fighters and police to put out the flames around the wreckage.
Television footages showed thick white smoke rising from the crash site and the wreckages of the plane strewn all around the scene.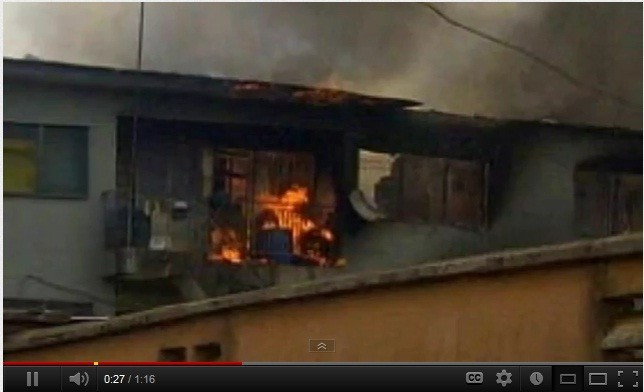 The pilot informed the control tower about the engine trouble just before the crash, according to the AP report quoting a military officer.
The Nigerian President Goodluck Jonathan declared three days of national mourning following the tragedy.
"[The President] prays that God Almighty will grant the families of the victims of the plane crash the courage and fortitude to bear their irreparable loss," a statement from the presidential office read.
In a separate incident, a Nigerian Boeing 727 cargo airliner crashed near Accra, the capital of Ghana, hitting a bus on the ground and killing 10 passengers on Saturday night. The aircraft belonged to Lagos-based aviation company, Allied Air Cargo.
The country witnessed one of the worst air tragedies in 1992, when a military transport plane carrying 163 soldiers, relatives and crew members crashed in to swamp immediately after takeoff from Lagos.