Even before he took the world of hip hop by storm, Tupac Shakur was already showing off his poetic prowess. A 1988 love letter written by the late rapper has revealed the makings of a talented lyricist.
TMZ reports that the heartfelt note confessing his feelings for a girl in his drama class has gone on sale as part of a $35,000 (£24,000) auction sale by US company Moments In Time.
In the prose he jokingly refers to his crush as "Beethoven" because of her piano skills and lets his inner Shakespeare do the talking.
He starts his prose by saying: "Felt compelled to write u. Can't really explain it, but feel good vibes from u. Want u to know that u can tell me anything and if u ever need a shoulder 2 cry on, you can cry on mine.
"As u will soon find out, I do not spare words, I say what I feel. So if something I say scares u please don't panic because I tend 2 get over emotional." He also said, "It's almost like I've known you 4 years."
He went on to add that their musical interests meant that they were well suited: "We have so much in common. We both love Prince, we've both had out hearts broken and we both love candles."
The icon signs off the folded letter with: "What else could I ask for? C U 2morrow Beethoven. 4 eternity".
Tupac was shot and killed in Las Vegas, Nevada, on 7 September 1996. He was travelling in a car with Death Row Records founder Suge Knight after attending a Mike Tyson fight at the MGM Grand when he was fatally wounded in a drive-by attack.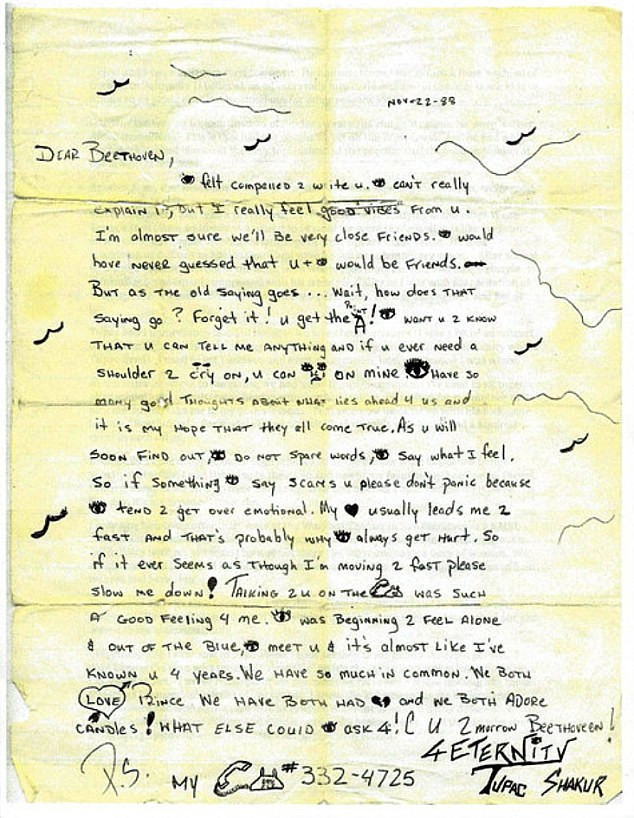 In 2015, Moments In Time put a handwritten five-page letter, penned by the Changes hitmaker while serving time for his 1995 conviction for sexually abusing a fan, on sale for $225,000. In the missive, titled, Is the thug life dead?, he talks about starting a new chapter. "U must play the game, not let the game play u. A regular Playa plays women, a Boss Playa plays life. A Boss Playa is a thinker, a leader, a builder, a moneymaker, a souljah, a teacher and most of all, a Man!," he wrote.