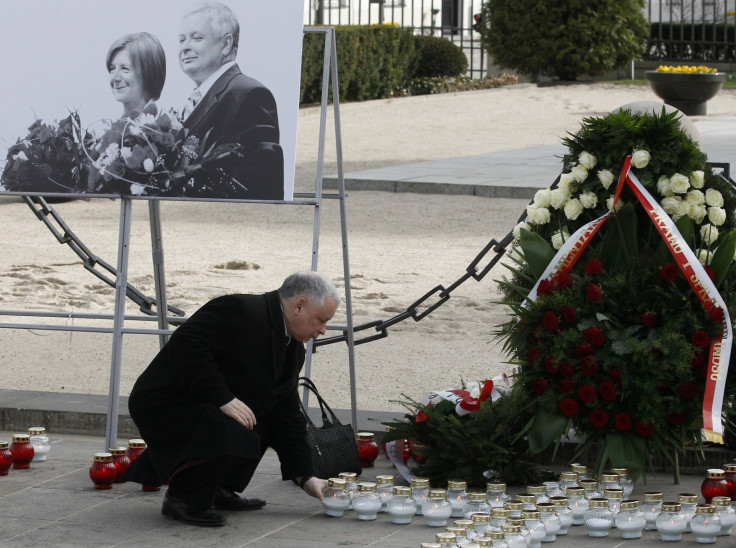 Polish authorities have found body parts of different people scattered in coffins reopened as part of an investigation into a 2010 plane crash that killed the then president Lech Kaczynsk and another 95 people.
Body parts of two other people were recovered in Kaczynsk's coffin. The caskets of another 11 victims also contained body parts of other victims, prosecutors said. They examined a total of 24 coffins, Reuters reported.
In one case, the coffin of Archbishop Miron Chodakowski contained only the upper half of his body, while the lower half belonged to General Tadeusz Ploski, Deputy Prosecutor General Marek Pasionek said.
The Soviet-made TU-154 plane that was carrying Kaczynski, his wife and a Polish delegation was en route from Warsaw to the Russian town of Smolensk on 10 April 2010.
It crashed as it tried to land at the Smolensk air base, in what is considered one of Poland's biggest national tragedies of recent history.
The coffins containing the victims' bodies were sealed in Russia and returned to Poland within two weeks after the incident.
"Today we know that there was no diligence in [the post mortems conducted in Russia]. There was nonchalance in the best case, and ill-will in the worst case," Magdalena Merta, the widow of Tomasz Merta, a senior culture ministry official who died in the crash, told the Polish state agency PAP, according to Reuters. She then accused Russia of "displaying a filthy attitude towards our dead".
Russian officials contacted by Reuters did not respond to a request for a comment.
An investigation led by the previous Polish government concluded that the the crash was the result of a human error when pilots attempted to land in heavy fog.
However, Poland's conservative ruling party Law and Justice (PiS), led by Kaczynski's twin brother Jaroslaw, ordered a fresh investigation into the crash last year, arguing that the previous one had not been conducted properly.
The new probe aims to establish whether the crash was an assassination or the result of a human error. Some PiS members have claimed, without providing evidence, that a bomb on board brought the plane down.
Speaking at a public event on 10 November last year, Kaczyński said: "There will not be a free Poland, a truly free Poland, without the truth, without a proper honouring of those who died, without a closure of this case which has cast such a long shadow on our national and social life."
However, former foreign minister Radoslaw Sikorski told TVN24, as some of the new findings were leaked earlier this week: "It seems that these post-mortems have been conducted diligently and they finally seem to have convinced some of our compatriots that there was no assassination."
The recent discovery is likely to strain relations between Poland and Russia, which has so far refused to return the wreckage of the plane, citing its own ongoing investigation into the crash.