A bedbound ex-dictator has reportedly swapped military conquests for the amorous kind by seducing his nurse.
Poland's last communist leader, Wojciech Jaruzelski, has become embroiled in a unlikely sex scandal at the ripe age of 90. It was reported frail Jaruzelski began a romance with a woman nearly half his age – in this case a nurse in her mid-50s.
He is now reportedly facing divorce from his long-time wife, unless he changes his ways and fires the nurse who tends to his day-to-day needs.
Jaruzelski, who was Poland's final leader to take orders directly from Moscow, was allegedly caught by his 84-year-old wife Barbara in a compromising position with Dorota Walewska. She was reportedly caught in Jaruzelski's bed, beneath his sheets.
Walewsk reportedly had gone beyond the call of duty before by putting on high heel shoes and feeding sweet delicacies to Jaruzelski, who is one of the last surviving Soviet-era leaders.
Mrs Jaruzelski said: "I have prepared all the paperwork with my lawyer. If my husband does not get rid of that woman, I will file for divorce." She claims it was Walewska who seduced her husband, not vice versa.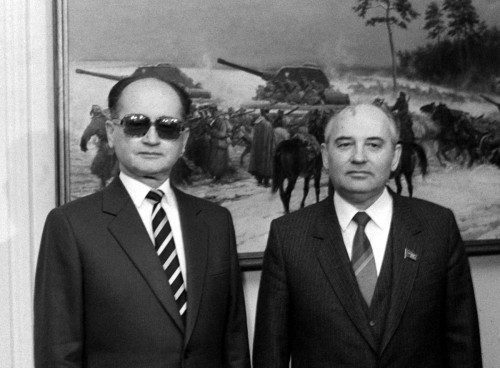 When in power, Jaruzelski's style hallmark was a pair of darkened shades – due to eye damage he suffered working as forced labourer in Soviet coal mines - even when appearing with the then leader of the USSR, Mikhail Gorbachov. He has kept up the habit even in retirement while confined to bed.
Allegations of extra-martial activities sit awkwardly with Jaruzelski's reported very poor health, which has enabled him to avoid trial for alleged abuses of power relating during his time in office.