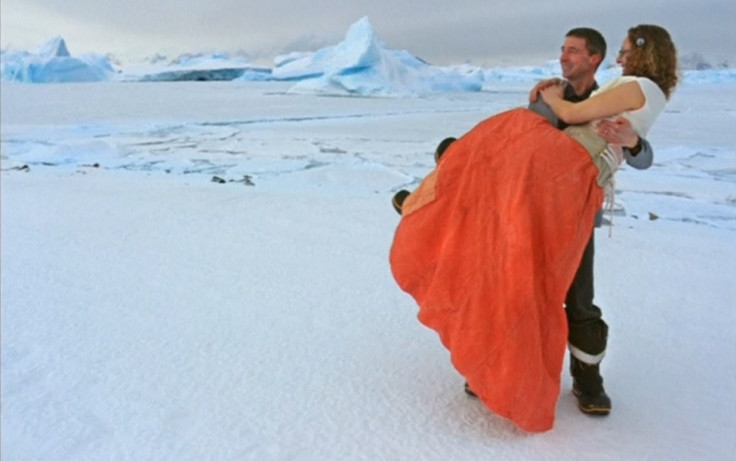 A couple, both of them polar researchers, got married in the British Antarctic Territory (BAT) over the weekend, making history as it is thought to be the first ever official wedding that has taken place there.
Julie Baum and Tom Sylvester got married at the Rothera Research Station on Adelaide Island, west of the Antarctic Peninsula, surrounded by snow-capped mountains at sub-zero temperatures. They have been together for 11 years.
The two-day celebrations were attended by their 20 colleagues who have been working and living in the remote region, which is the largest research station during the winter months.
The ceremony was performed by station leader and BAT magistrate Paul Samways.
Besides the exotic location making headlines, the highlight of the wedding was also the 34-year-old bride's dress.
Baum maintained the tradition of wearing 'something old' at her wedding as she sewed a piece of an old orange tent onto her handmade dress that she had created with the help of her colleagues at the base.
The British Antarctic Survey shared pictures and videos of the ceremony that was held at a bone-chilling -9C.
It is reported to be the first marriage since the BAT marriage law was reformed in order to make it easier for weddings to be arranged in the territory, BBC noted.
Sylvester is from Sheffield and Baum was born in Birmingham but lives in Staffordshire. Their marriage is valid in the UK as it was registered with the BAT government, which is based in the Foreign and Commonwealth Office.
"Over the last 10 years, Tom and I have been working and travelling around the world," Baum said.
"Getting married in Antarctica feels like it was meant to be. There is no better place really. I love snowy mountains and spending time in amazing places with awesome people."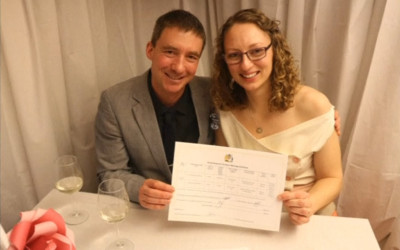 Talking about the wedding location, Sylvester said, "[It] couldn't be better. Antarctica is an incredibly beautiful place and we have made such great friends here.
"We have always wanted to have a small personal wedding, but never imagined we'd be able to get married in one of the most remote places on Earth."
The groom reportedly made the brass wedding rings on a lathe in the metal workshop at the station.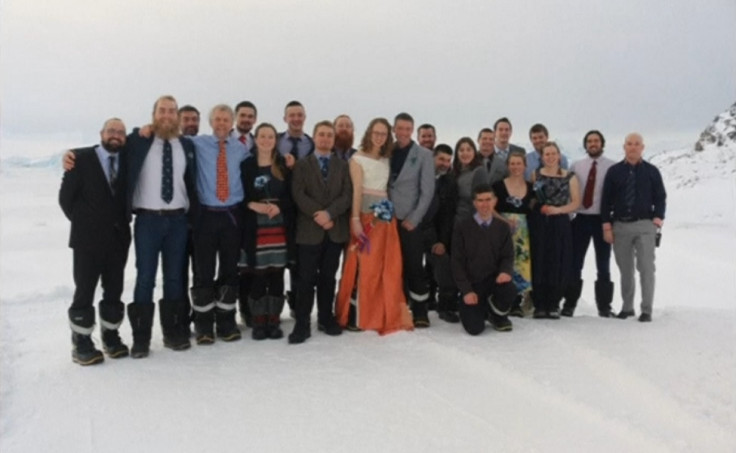 Sylvester and Buam, engaged for three years, have worked as expedition leaders around the world. They are also experienced mountaineers and instructors, and joined the Rothera Research Station last year.
After getting married, instead of leaving the venue in the traditional fashion with a car marked "Just Married", the British couple drove off in a snowmobile.