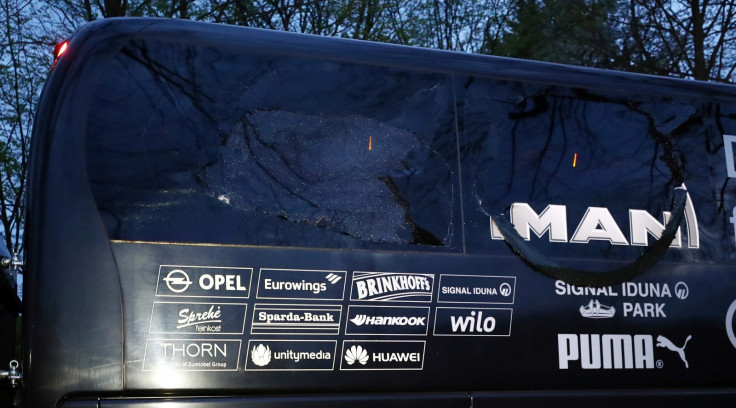 German police have charged a man they suspect of being responsible for the explosives attack on the Borussia Dortmund team bus. The suspect is believed to have been motivated by financial concerns rather than religious ideology.
Market trader Sergej W, 28, a dual German and Russian national identified, carried out the attack because he stood to make money if the price of Borussia Dortmund's shares fell, according to prosecutors.
He is said to have been staying in a hotel overlooking the road where three bombs exploded near the team's bus shortly before their home Champions League fixture with Monaco on 11 April.
No one was killed or severely injured by the incident but Spanish star Marc Bartra underwent wrist surgery and a policeman was treated for shock.
Sergej W has been charged with attempted murder following his arrest in Baden-Wuerttemberg, south-west Germany, on Friday morning.
He allegedly bought short-sell options on 15,000 shares valued at around €78,000 (£65,000; $83,600) in Borussia Dortmund. If the value of the shares fell, then his options would have gained up to €3.9m as a result of a large drop in Dortmund's shares.
Police traced the IP address that was made to buy the options to the hotel where the suspect was staying.
The three bombs he allegedly packed with metal pins were concealed in a hedge near the roadside and detonated as the team's bus passed around six miles from their stadium.
A 25-year-old Iraqi with alleged "Islamist links" had previously been detained and questioned in relation to the matter but he was later release without charge.