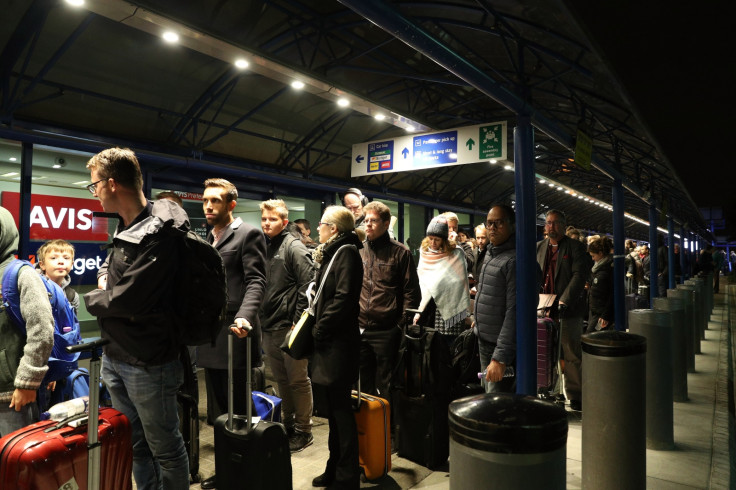 Police have found CS gas spray whilst investigating a 'chemical incident' that closed London City Airport and led to 27 people treated by paramedics. The airport, in the east London borough of Newham, was closed and evacuated just after 4pm on Friday 21 October, after a fire alarm was activated.
Passengers and staff began 'coughing uncontrollably' and complaining that they were struggling to breathe, and their eyes were stinging and streaming. The London Ambulance Service said paramedics treated 27 people and took two people to hospital.
At least 500 people were told to leave the airport while Transport for London (TfL) warned travellers to expect long delays. People were left standing on the airport's tarmac for hours whilst police investigated the cause of the incident.
A Met Police statement, released five hours after the evacuation, said: "A subsequent search of the airport led to the discovery of what is believed to be a CS gas spray. Whilst the cause of the incident has not yet been confirmed, officers are investigating whether it was the result of an accidental discharge of the spray.
"Enquiries continue. This is not being treated as a terrorist-related incident. At this early stage officers believe that the spray may have been discarded by a passenger prior to check-in."
London City Airport tweeted that police were looking into: "whether it was the result of an accidental discharge of the spray."
The London Fire Brigade said that firefighters and police wearing protective equipment swept the airport twice looking for clues before declaring the incident over. Thousands were affected by the closure and planes from destinations such as Frankfurt, Amsterdam, Belfast City and Paris had to be diverted to other airports.
Two roads near the airport, Connaught Road and Connaught Bridge, were also closed following the incident.
David Morris, who was preparing to fly from London to Edinburgh when the incident happened, said the situation was "quite scary". "It was getting quite bad and we saw other people starting to cough at the same time," he told the Press Association. "The people behind the desk were coughing the most and quite aggressively. Within two minutes, they shouted for everyone to get out."
A London Fire Service spokesperson said: "Three fire engines and a range of specialist appliances have been called to reports of a chemical incident at London City Airport. Around 500 members of the public and staff have been evacuated and there are reports of a number of passengers feeling unwell. The Metropolitan Police and The London Ambulance Service are also in attendance."