A man and a woman have been found dead at a luxury 5-star hotel in the heart of Edinburgh.
Their bodies were found by emergency services at 12.15pm today (Thursday) inside the Scotsman hotel, next to North Bridge, in the heart of the Scottish capital.
Police and fire-fighters are investigating a potential chemical incident. A cordon was put in place around the hotel - described as 'majestic' on holiday websites. However North Bridge remained open throughout.
According to reports, police said nobody else was at risk.
The only floor of the hotel to be evacuated was the sixth, which was completely emptied. One of those evacuated, American tourist Betty Cuniberti, told STV: "There was a very loud bang on the door and when I opened it it was a fireman and somebody from the hotel saying it was being evacuated.
"They told me it was safe to take the elevator but I wasn't happy to do that so I took the stairs.
"I feel just terribly about what's happened. It's really tragic."
A Police Scotland spokesman said: "Emergency services are in attendance at the Scotsman Hotel on North Bridge where the bodies of a man and a woman were discovered in a room around 12.15pm today.
"Inquiries are at an early stage and the deaths are being treated as unexplained at this time."
The Scotsman is located close to tourist hotspot Edinburgh Castle, next to the famous Royal Mile and also Princes Street. The luxury hotel opened in 2001 when the Scotsman newspaper moved out.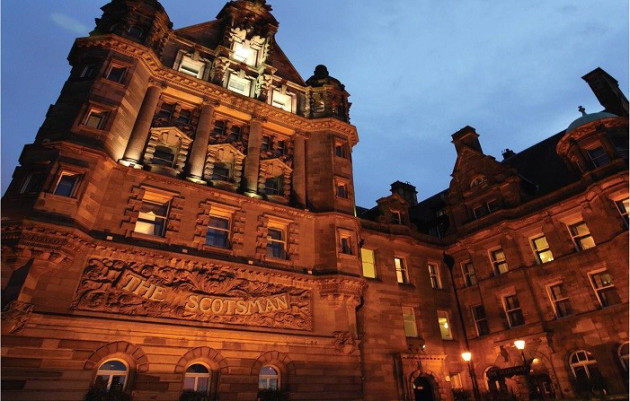 The deaths of the pair come as thousands of visitors prepare to converge on Edinburgh for the annual Fringe festival.
Hotel guests Norma and Derek Cameron told Herald Scotland the incident was "horrible."
Mrs Cameron, 71, said: "We were just going back to go to the Tattoo. We wanted to get in and get refreshed.
"The police weren't giving anything away. They just said that the hotel had been closed and everyone evacuated.
"It's horrible to think about. I'm not sure I want to go back in now," she told the Herald.