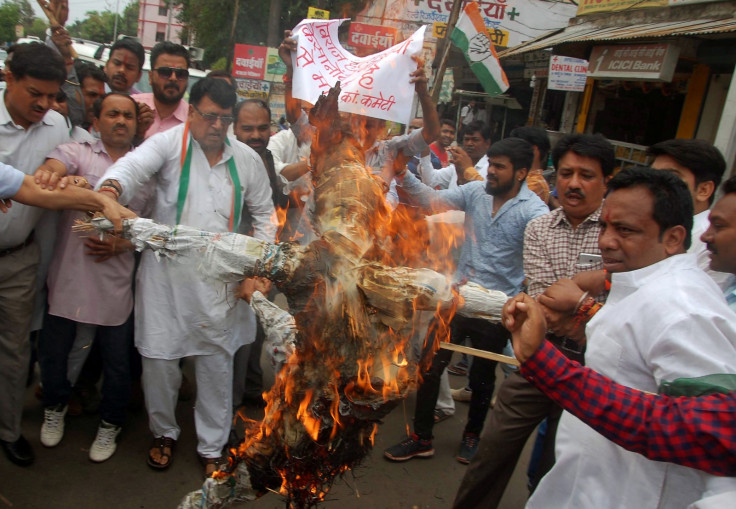 Authorities on Thursday, 8 June admitted that five farmers were killed by police gunfire during anti-government demonstrations in the central Indian state of Madhya Pradesh.
Protests have escalated after it emerged that the deceased were shot by the police, though the state government had earlier denied the claim.
Tensions peaked in Madhya Pradesh's Mandsaur region on Tuesday (6 June) after demonstrators turned violent by hurling stones and started vandalising properties.
The protesting farmers were demanding a series of measures such as bank loan waivers and better prices for their produce. The latest bout of demonstrations was triggered by a suicide of a farmer in the drought-prone region.
"Death of the 5 farmers was due to Police firing. It has been established in probe," the state's Home Minister Bhupendra Singh told the news agency ANI adding the government has initiated an investigation into the matter. So far, 62 people have been taken into custody by law enforcement agencies.
Chief Minister Shivraj Singh Chouhan has ordered a judicial probe into the matter.
The developments have led to top political leaders descending on the protest zone trying to capitalise on the situation. The ruling administration led by Bharatiya Janata Party (BJP) – which is the ruling party in the Centre as well – blamed opposition leaders of attempting to make political mileage.
Rahul Gandhi of the Indian National Congress party was stopped from entering Mandsaur area when he attempted to meet grieving family members of the deceased farmers.
"What law of the land says that it is illegal to stand in solidarity with farmers who were killed simply for demanding what is their right?" a visibly animated Gandhi, who was accompanied by a retinue of senior political leaders, asked reporters when he was prevented entry by the police. "PM [Narendra] Modi doesn't waive off farmer loans, doesn't give them benefits, only gives them bullets," he said.
However, federal minister and senior BJP MP Venkaiah Naidu hit back at Congress by saying: "The Congress is instigating and politicising the issue. It should stop doing that and behave as a responsible political party to help restore normalcy there."