Police hunting for three men involved in attack at transgender rally in Hyde Park
Scuffle took place at an event about transgender rights.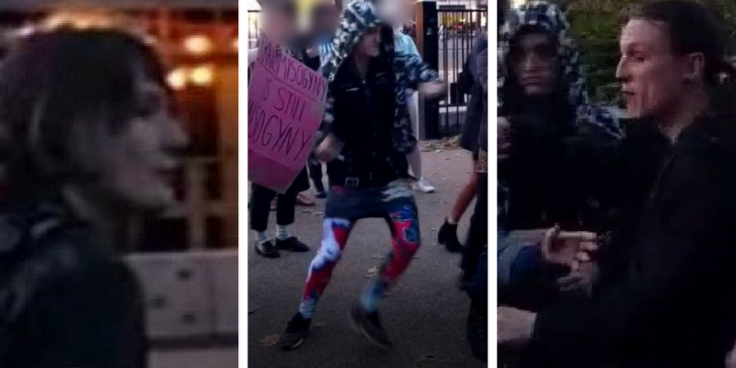 Police in London have released a series of images of three suspects they want to speak to in connection with an assault that took place at a transgender event in Hyde Park.
The Metropolitan Police have revealed details of the assault that took place at around 9.30pm on the 13 September at the popular park.
During the event, a 60-year-old woman was attacked while she was filming.
One of the suspects approached her and tried to snatch her camera and memory card which resulted in the woman being punched in the face.
She was then knocked to the ground and kicked by the men several times.
The woman suffered minor bruising and did not require medical attention, but now police are trying to track down those involved.
One of the assailants is described as a white man, around 6ft tall with brown shoulder-length hair worn in a pony tail.
The second suspect is also white, around 5ft 8ins tall, of slim build with short blonde hair and was wearing a black, grey and white hooded camouflage jacket and multicoloured leggings.
The last suspect, a white man, around 5ft 7ins tall of slim build with brown chin-length hair with blonde ends was wearing a black, grey and white camouflage hat, a black pullover top and black jeans.
The clashes came amid tensions between the Trans-Exclusionary Radical Feminists (TERFs) and their rivals, Trans Activists - the two groups differ in their views on the rights of transgender individuals.
Maria MacLachlan was the woman attacked at the park and had been meeting with the TERFs when the scuffle began.
Speaking to the Mail, MacLachlan explained how the events unfolded, she said: "I thought, I can film this, it will be interesting. They [Trans activists] were getting louder and louder. Then suddenly someone tried to grab my camera. It was scary. Someone kept trying to get my camera. I think it was a girl, but I couldn't tell because they had a hoodie over their eyes."
Police questioned a 26-year-old man at a central London police station on 6 October, but he was not arrested.
Any witnesses or anyone with information that could assist the investigation is asked to call Westminster police on 101 or contact via Twitter @MetCC.
To provide information anonymously contact Crimestoppers on 0800 555 111 or online at crimestoppers-uk.org.