56 Police Officers Injured in Belfast as Parade Sparks Sectarian Clashes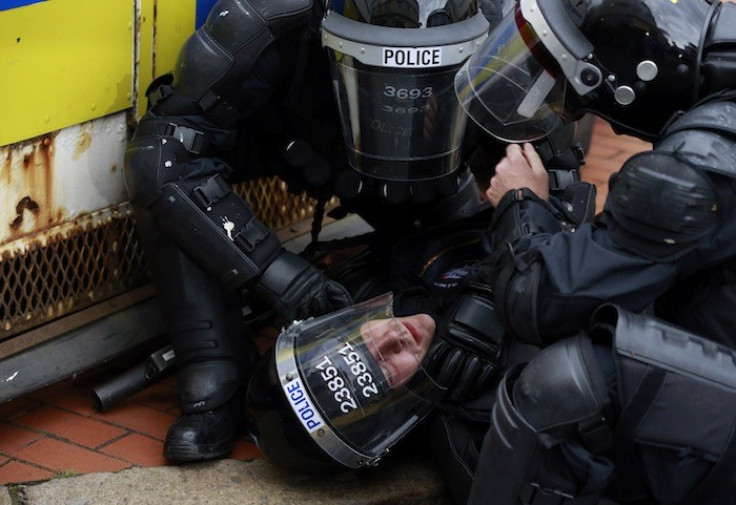 Fifty-six police officers are now known to have been injured in rioting in the centre of Belfast as hundreds of loyalists attempted to block the route of a republican parade on Friday night.
Five officers were hospitalised as police lines came under a sustained barrage of pavement slabs, bricks, bottles, fireworks and pint glasses.
Two members of the public were injured, police said, with cars torched and shopfronts smashed.
Police Service of Northern Ireland Assistant Chief Constable George Hamilton condemned those "intent on creating disorder".
"Whilst facilitating the Parades Commission determination for tonight's parade and associated protests, police have come under heavy and sustained attack by crowds intent on creating disorder," he said.
"As Northern Ireland moves ahead, the effect of tonight's violence has the potential to damage the local economy and the reputation of Belfast as a tourist destination.
"As disturbances are continuing, I would call upon people of influence in communities and those in political leadership to do all possible to reduce tension."
'Serious disorder'
The parade was held to mark the introduction of internment without trial in the province in 1971, and had been cleared to go ahead by the Parades Commission adjudicating body.
The violence broke out as the parade approached from north Belfast, with police stepping in to prevent rival groups converging.
Police said "serious disorder" took place in the Carrickhill, Peter's Hill and Millfield areas close to the city centre.
Hundreds of riot police and dozens of vehicles had been mobilised ahead of the event.
Police deployed water cannon and dogs, and fired more than 20 plastic baton rounds to quell the disorder.
The parade was blocked from passing along its route on Royal Avenue and was forced instead to proceed along the outskirts of the city centre.
The latest disorder comes after eight officers were injured on Thursday night, when trouble flared at a republican anti-internment bonfire near the city centre.
Eight people were arrested as the violence spread to the north of the city, with officers at one point coming under attack from a man wielding a sword.
Last month, parts of the city were engulfed by rioting when loyalist Orangemen were prevented from marching along a sensitive stretch of road in the nationalist Ardoyne area.
Tensions have spread to other parts of the country, with anger growing over a Sinn Fein commemoration event in the town of Castlederg in Co Tyrone this Sunday, in tribute to IRA members killed in the Troubles.
"We warned the secretary of state, the PSNI and the Parades Commission that this would happen but they ignored our warnings," said Democratic Unionist MLA Nelson McCausland.
"They misjudged the situation and the image of Belfast has suffered badly. That is particularly frustrating because what happened was entirely avoidable."
Ulster Unionist Assembly member Michael Copeland, a representative from East Belfast, accused the police of assaulting him and members of his family during the clashes in Royal Avenue.
Copeland said: "There was an elderly woman, I would say she was 75, standing in front of me with her back to the police, she was being repeatedly pushed by shields. When I stepped forward to intervene I was kicked by a police officer.
"I have a very old injury which means I walk with a very pronounced limp and I was kicked repeatedly on that leg and stamped on that foot."
He said his wife and daughter were also struck by batons. The MLA said he went straight to Strandtown Police Station to make a complaint.
The police have said they have referred the incident to the Police Ombudsman.
By Saturday morning the crowds had dispersed and the streets appeared calm, said police.
© Copyright IBTimes 2023. All rights reserved.