Police allowed a neo-Nazi rally, attended by hundreds, to take place in a Cambridgeshire village believing it was an event for soldiers' charity Help for Heroes .
Around 350 people descended on the village of Haddenham on 23 and 24 September to attend the rally commemorating the anniversary of the death of Ian Stuart Donaldson, founder of white supremacist group Blood and Honour.
Donaldson was also the lead singer of Skrewdriver, one of the most prominent white power punk bands. He died in 1993 in a car crash in Derbyshire aged 36.
Blood and Honour, who describe themselves as a movement that offers an "alternative lifestyle to the drug infested, pro homosexual, race mixing scene fanatically pushed by today's powers to be", have organised memorial events on the anniversary of Donaldson's death for a number of years.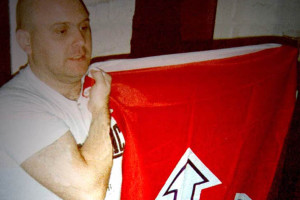 According to the BBC, the latest rally was allowed to go-ahead as Cambridgeshire Police believed it was a charity fundraising event in aid of Help for Heroes.
The military charity, for those injured in the line of duty and their families, denied any involvement in the rally.
Blood and Honour, banned in several countries across Europe, are forced to move around the UK as many places refuse to let them hold events.
East Cambridgeshire district council said the planning application was submitted as a temporary event notice requesting permission for a "private party with music". This application was submitted to police, who saw no reason to reject it.
Mark Gardner from Community Security Trust, which protects British Jews from anti-Semitism, told the BBC that it appears somebody had "pulled the wool over the police's eyes".
A Cambridgeshire Police polcie spokesperson said: "There was a three day music event held the weekend before last in a private field near Haddenham with the owner's permission. We had been in contact with other forces about similar events and were aware of a possible right wing element.
"Senior officers planned and implemented a response proportionate to the risk. We worked with organisers and landowner and the event took place without any disorder or crime committed."
A spokesman for Help for Heroes added: "Help for Heroes is strictly non-political; we simply want to help our wounded. This event was not registered with the charity and we do not accept donations from extremist groups. Donations made by this group will be rejected."