Fashion label Marc Jacobs has pulled one of its T-shirts from sale following complaints its logo resembled imagery used by neo-Nazi punk band Skrewdriver.
The T-shirt, which was available to purchase from Marc Jacobs' website as well as in shops, featured a stencil outline of a pair of army boots with the sole visible.
The apparel has now been removed from sale after its design was found to be similar to artwork on neo-Nazi skinhead band Skrewdriver's 1987 EP Boots and Braces.
The fashion label acknowledged the similarity between the designs but denied ever trying to make a connection with the infamous band whose back catalogue include the songs White Power and Hail the New Dawn.
A spokesperson said: "It has been brought to our attention that the imagery on a T-shirt of ours is similar to that used by a band. We were not trying to make a connection to that band or make a statement of any kind.
"We have removed the stock of the shirt from our own stores and offer our retail partners the same opportunity."
In 2012, British rapper Plan B was also forced to apologise after he was photographed on the cover of Shortlist magazine in what appeared to be a Skrewdriver T-shirt.
The rapper, real name Ben Drew, denied any knowledge of the band and quickly distanced himself from their ideology once he realised his mistake.
He told The Quietus: "I was wearing a T-shirt I created using a photograph from the photographer Gavin Watson's book, Skins.
"Gavin's photos are relevant to me because they represent the demonised youth of the past, just like my generation of young people are demonised in the media to all be hoodie-wearing thugs and chavs so were the skinheads in the 80s.
"It was of my own doing and therefore it is my mistake, but that is all it is."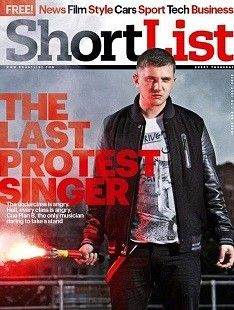 Skrewdriver formed in 1976 originally as a non-political and non-racist group punk group. However, the band, led by neo-Nazi skinhead Ian Stuart Donaldson, soon evolved to become one of the most prominent white power punk bands in the world.
Donaldson died in 1993 after being involved in a car crash in Derbyshire.