Police are probing offensive Tweets sent during online clashes between Spurs and Arsenal fans which featured anti-Semitic slurs and referenced the Holocaust.
The rivalry between fans of the two north London clubs turned ugly as some Arsenal fans unleashed a torrent of anti-Semitic abuse at Tottenham supporters on Twitter.
Prosecutions for religious hatred could follow if the Crown Prosecution Services believes the tweets crossed the line in to criminal behaviour. For a club such as Arsenal which takes pride in conducting itself with class, the exchanges will be difficult to take.
It came after a section of Spurs fans had targeted Gunners striker Theo Walcott and threw objects at him, during last weekend's FA Cup clash at the Emirates.
Walcott risked antagonising fans by signing the 2-0 scoreline as he was stretchered off the pitch. Bitter exchanges between rival fans continued on Twitter long after the final whistle.
Some messages sent between fans referenced the Nazi campaign of mass murder during World War II against Jewish people by citing gas chambers and ovens used by Hitler's regime to dispose of victims.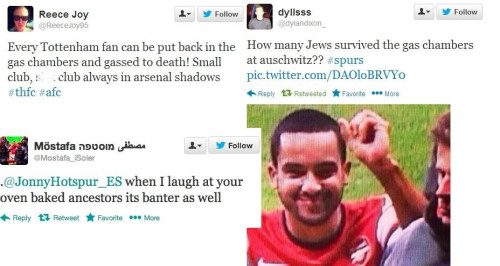 The abusive messages were condemned by other Arsenal fans, who called for action to be taken against offenders.
Some offensive messages were later deleted by users, and some took to Twitter to apologise for the outbursts.
Scotland Yard has begun an assessment of the messages. A Metropolitan Police spokesman said: "We are aware of anti-social messages posted on Twitter following the Arsenal versus Spurs match and an assessment is underway."
No arrests have been made.
Kick It Out campaigns against in football. It said it was aware of the offensive messages sent on Twitter and has reported the abuse.