Policeman burnt alive and 14 civilians killed after protests turn violent in DRC
Protesters were demanding President Kabila's resignation.
At least one policeman was burned alive after clashes broke out between security forces and protesters in the Democratic Republic of Congo (DRC)'s capital, Kinshasa. The protesters were marching on Monday (19 September) to demand that President Joseph Kabila steps down from power when his second full term expires.
The peaceful march turned violent after police fired tear gas to disperse hundreds of stone-throwing youths and it was later reported that 17 people had been killed – including three policemen.
Political dialogue: What the agreement may look like
An agreement was struck between Kabila's camp and the participating delegation, led by opposition leader Vital Kamerhe, Samy Badibanga, Léon Kengo wa Dondo, José Makila, Bruno Mavungu and Jean-Lucien Busa. While this has not yet been officially announced, members of the election committee are understood to have agreed on a number of points:
A complete overhaul of the electoral register, which is anticipated to be carried out and completed in under 16 months and one day
Holding out the presidential, legislative and provincial elections the same day
A transitional government is expected to be led by elements of the opposition participating delegation
Kabila will remain in office until the installation of the newly elected president
No referendum that could affect the constitution should be organised during this transitional period
Kabila will not be candidate in the next presidential election
Government spokesman Lambert Mende confirmed that 14 civilians and three policemen were killed. He had earlier confirmed at least one policeman had been burnt alive.
Presidential elections are supposed to take place in November, but the vote is set to be postponed up to 16 months due to outstanding issues which are yet to be resolved, including updating the voter register.
Activists and opposition groups called for nationwide protests beginning on Monday – 90 days before the end of Kabila's term and when the electoral commission was constitutionally required to announce presidential elections. The protesters intended to march on parliament ahead of a planned mass demonstration.
"We have now banned the demonstration," Mende said, before accusing the opposition of "targeted looting". "These are people who had prepared to create total disorder."
It is still unclear how the 14 civilians died.
Opposition leader Martin Fayulu wounded
IBTimes UK received reports that dozens of protesters had been wounded in Kinshasa, including senior opposition leader Martin Fayulu.
"Dozens wounded, including prominent opposition leader Fayulu," a source from Kinshasa, who spoke under condition of anonymity, told IBTimes UK.
"It's clear that he was targeted, a bullet only just scraped his head. Only a few millimetres and it would have hit his skull. The worst was avoided."
The source added: "Some people were shot point-blank in Bandalungwa (Funa district). It's clear that we saw that (security forces) were aiming for the heads and hearts. Fayulu's head was targeted, and other people had blood coming out of bullet wounds to the head. What is happening is terrifying."
Kinshasa: A city 'under pressure'
Witnesses in the capital described a city "under pressure", as opposition activists blocked roads with burning tyres. Local resident Alain Tandu described hearing "noises of weapons of war" near Place de la Victoire in Matonge district. "The people are expressing themselves," Tandu said on Twitter.
The DRC's second biggest city Lubumbashi (Katanga region) was similarly tense, with soldiers and police out in force around public buildings and opposition neighbourhoods.
In Goma, the main city in the DRC's resource-rich eastern North Kivu, protesters and police clashed earlier this morning, but things calmed down and protesters carried out with their demonstration. A source said police had also fired tear gas when protesters tried to walk down to the electoral body's local office.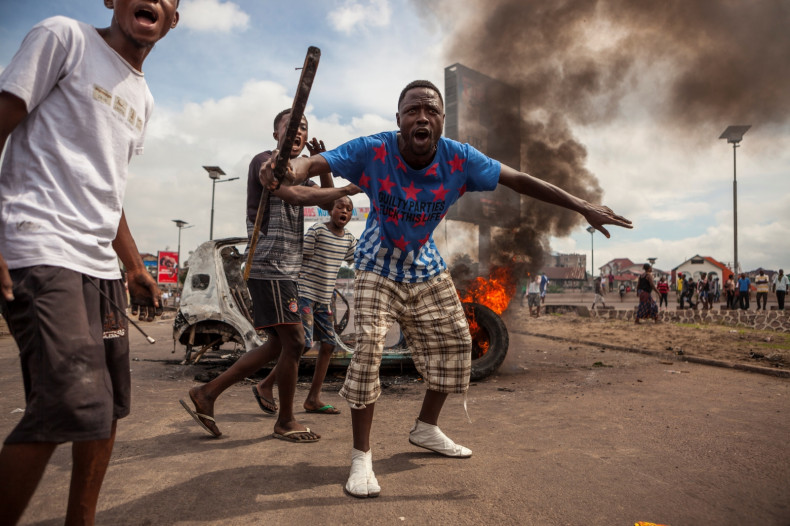 'A critical opportunity for DRC to strengthen democracy'
The US Ambassador to the United Nations Human Rights Council, Keith Harper, said on Twitter that he was "deeply concerned about the human rights situation (...) in the DRC". The US last week threatened to impose sanctions on those responsible for violence during upcoming elections in the country.
Harper's comments come as Human Rights Watch condemned the arrest on Thursday (15 September) of a dozen pro-democracy youth activists who were arrested following a meeting on non-violence, peace, and respect of the constitution.
The rights group condemned police use of tear gas and, later, live bullets to disperse opposition party members in Lubumbashi on 16 September, and the following day's arrest of human rights activist Patrick Pindu at his home in Kinshasa after he participated in a civil society meeting on the elections.
"The decisions President Kabila and his government will make in the coming weeks can make all the difference for Congo's future," said Daniel Bekele, HRW's Africa director. "This is a critical opportunity for the country to strengthen democracy, the rule of law and human rights for its own future and for the entire region."