Greece and its creditors are coming under increased pressure to come to an agreement that will prevent a Grexit and a financial collapse.
Athens has been told in no uncertain terms that it has until the end of business on 9 July to present a plan for radical economic reform, tax increases and spending cuts to keep the country part of the euro.
On the other side, US Treasury secretary Jack Lew and the International Monetary Fund chief Christine Lagarde put pressure on the EU to grant Greece debt relief and help it avoid a Grexit, the Financial Times reported.
Both implicitly urged Germany and others to drop their refusal to clear Greek debts, saying the country was in desperate need of a "restructuring".
"Greece is in a situation of acute crisis, which needs to be addressed seriously and promptly," Lagarde said.
Lew called on European creditors to be ready to restructure Greece's €317bn (£230bn, $350bn) debt pile.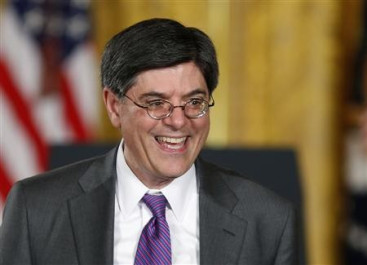 "In the next few days what we'll see is [whether] the parties come together and build enough trust that Greece will take the actions that it needs to take so that Europe will restructure the debt in a way that is more sustainable," he said.
"I certainly have ideas about how you can do that. But it's ... a lot to do in a short period of time and I've said over and over again that the risk of an accident goes up dramatically when you create more of these kind of life and death deadlines."
President Barack Obama has had talks with both German Chancellor Angela Merkel and Greek Prime Minister Alexis Tsipras to try to help resolve the growing crisis.
Meanwhile, Greece's proposals will come against mounting bad blood between the country and the EU. Matters were not helped on 8 July when Tsipras accused his eurozone creditors of turning Greece into an "austerity laboratory".
Speaking at the European Parliament in Strasbourg, he added: "The experiment was not a success. Poverty has soared, and so has public debt.
"We have now been given a mandate to redouble our efforts in order to get a socially just and economically sustainable solution. Europe will be democratic or it will have immense difficulties surviving."
An EU leaders' meeting has been called for 12 July at which they will have to agree to Athens's proposals or Greece will be cut off from the eurozone.
Athens has applied for a new three-year €50bn loan agreement from the European Stability Mechanism (ESM), the eurozone's permanent bailout fund.
"As part of broader discussions to be held, Greece welcomes an opportunity to explore potential measures to be taken so that its official sector-related debt becomes both sustainable and viable over the long term," said the bailout letter from the new finance minister, Euclid Tsakalotos.
"This is really and truly the final wakeup call for Greece but also for us, our last chance," said European Council president Donald Tusk. "Seek help among your friends and not among your enemies. And if you want to help your friend in need, do not humiliate him."
Former Belgian Prime Minister Guy Verhofstadt – now leader of the liber group in the parliament – addressed Tsipras: "You have to come forward with your reform programme. This is not a chicken and egg discussion. It is your choice. How do you want to be remembered? As an electoral accident who made its people poorer? Or as a real revolutionary reformer? Show that you are a real leader and not a false prophet."